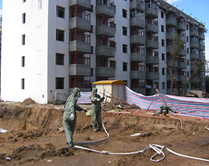 Chinese victims and their families have demanded compensation from Japan for harm suffered in a recent accidental leak of mustard gas from chemical weapons abandoned by Japanese troops in northeast China during World War II.
Details about the demands are not available, but Chinese foreign ministry officials are reported to have been negotiating with the Japanese side in the past two days. A Japanese delegation arrived Saturday at the scene of the accident in Qiqihar City, northeast China's Heilongjiang Province, as required by the Chinese foreign ministry.
A total of 32 people have been hospitalized due to exposure to the gas, and eight were in serious condition and two in critical condition, in the No. 203 Hospital of the People's Liberation Army.
The Japanese delegation led by Kawakami Fumihiro, a foreign ministry official in charge of China affairs, examined a local warehouse where the chemical weapons were stored, and checked the metal containers. They also visited the victims in the hospital.
The gas leaked out on August 4 after five metal drums were dug out and broken at a construction site in Qiqihar. Oil-like material leaked out and infiltrated the soil. Chemical weapon experts later confirmed that the material was mustard gas, and the barrels were chemical weapons left by the Japanese army during World War II.
Local anti-chemical warfare corps disinfected all 11 polluted sites, and sealed up all the contaminated soil and transported them to the warehouse with the abandoned chemical weapons.
In July 1999, following several years of negotiations, China and Japan signed a memorandum on the destruction of chemical weapons abandoned by Japanese troops in China.
In the memorandum, Japan admitted that large quantities of chemical weapons had been abandoned in China and promised to destroy them in accordance with the U.N. Convention on the Banning of Chemical Weapons.
More than ten Chinese provinces have found chemical weapons left by the Japanese aggressors.
(Xinhua News Agency August 10, 2003)