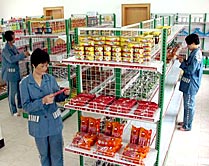 As many as 2,000 prisoners at the No. 2 Labor Camp of Gansu Province, northwest China, were recently paid salaries as the first group of prisoners to receive a regular monthly income.

The innovative measure has won consent from the Ministry of Justice, which is about to introduce it to other areas as part of reforms on the current labor re-education system.
"I can't never believe it," said muscular prisoner Chang Faqiang, whose diligence brought him 427 yuan last month (US$52), the highest in the camp.
In a western inland city like Lanzhou, where the camp is stationed, a full-time employed person earns no more than 600 yuan (US$72) a month. The government-guaranteed minimum income for living is about 180 yuan (US$22) per month.
Every prisoner at the camp is entitled to have at least 150 yuan (US$18) as fixed payment each month and extra bonuses according to their work and behavior, said Tian Li, vice director with the camp, adding that the average income is roughly 180 yuan (US$22).
Tian said that the salaries come from funds allocated by government and production at the camp.
"Salary payment is the result of systematic and scientific reforms on the labor re-education," said Chen Yuanping, vice director with the Gansu labor camp administration. It was a way to respect the lawful rights and labor of the prisoners, he noted.
The income and allocated money used to be spent by the camp administration to maintain or improve the living standard of prisoners at labor camps, and the prisoners did not receive any cash payment, said Chen.
The performance-based salary policy greatly stimulated competition among the prisoners at the No.2 Labor Camp of Gansu, among whom 92 percent were drug addicts. So far, 103 people have been granted professional qualifications as cooks, hairdressers and computer engineers. And over 500 are taking training programs in a variety of subjects.
"I want to open a noodle restaurant in the downtown of Lanzhou after I leave here," said Ma Wenjun, who became the first at the camp to win qualification as noodle-making master.
"I enjoy being economically independent and came to realize the value of work and the experience here reminds me how silly I was before when I stole to buy drugs," said Suo Yongfu, 32, a skilled surgeon imprisoned for last September for drug use.
A diligent worker at the camp-run workshop producing architecture materials, Suo can earn about 300 yuan (US$36) a month. Moreover, he rises early, plays sports regularly and eats a balanced diet every day. "I want to earn more," he told Xinhua.
Enacted in 1957 as mild punishment, the labor re-education system is a compelling measure on for convicts.
The term is usually around one year but the longest is no more than three years. The measure has incurred increasing criticism in the past few years for lack of impartiality and supervision.
The ministry is speeding up reforms of the system and some test measures have already been taken in several labor camps aiming to provide more freedom for well behaved prisoners, said Jiang Jinfang, senior official in charge of strategy researches with the Ministry of Justice.
Multiple modes will be applied in daily management possibly providing more humane treatment such as allowing prisoners to spend more weekends with families, said Jiang. It is also possible in future for the convicts to work in the local community if circumstances permit, he said.
Statistics indicate that about 260,000 people are held at labor camps throughout the country as of September, slightly fewer than last year.
(Xinhua News Agency September 25, 2003)