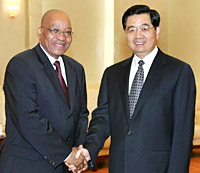 Chinese President Hu Jintao said in Beijing Tuesday that both China and South Africa should earnestly push forward cooperation in various fields and upgrade the Sino-South African relations to a higher level.
While meeting with visiting South African Vice President Jacob Zuma, Hu said that cooperation between China and South Africa, both influential developing countries, is significant to world peace and common prosperity.
China and South Africa need to continue their good experience in developing bilateral relations and substantiate the bilateral strategic partnership, Hu said.
Since the 1950s, Hu said, the Chinese government and the Chinese people have firmly advocated the just cause of the South African people in fighting against apartheid and realizing national liberation.
After they established diplomatic relations in 1998, Hu said, China and South Africa carried out effective cooperation in various areas. South Africa is now the biggest trade partner of China in Africa. The strategic partnership between the two countries has a bright future.
Zuma relayed regards from South African President Thabo Mbeki and former President Nelson Mandela to President Hu. Zuma also expressed his congratulations for Hu on his assuming the post of chairman of the Central Military Commission of the Communist Party of China.
Zuma spoke high of the traditional friendship between South Africa and China as well as Africa and China.
He praised China for its policy of consultation and cooperation with other developing countries in many international mechanisms.
He said he admires China's economic and social miracles achieved in recent years, adding that South Africa could learn much from the Chinese experience.
He said his country is willing to strengthen friendly cooperation with China in an overall way.
(Xinhua News Agency September 29, 2004)