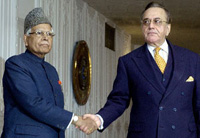 Pakistan and India Wednesday agreed to start the Muzaffarabad-Srinagar bus service to allow travel across the Line of Control (LoC) in disputed Kashmir from April 7.
This was decided at a meeting held in Islamabad Wednesday afternoon between Pakistani Foreign Minister Khurshid Mahmud Kasuri and his Indian counterpart Natwar Singh, according to a brief joint statement issued after the meeting.
"Both governments have agreed to allow travel across the LoC between Srinagar and Muzaffarabad by bus," the statement said, adding "The bus service is expected to commence from April 7, 2005."
It said that travel across the LoC would be by an entry permit system once identities were verified and application forms for travel would be available with designated authorities in Srinagar and Muzaffarabad, capitals of India-and Pakistan-held Kashmir.
The agreement showed that India has dropped its insistence that passengers on the proposed bus service carry passports, a condition that has prevented its launch.
The bus service to link Srinagar and Muzaffarabad was proposed as a major step to build trust between the two neighbors. However, the transport link across the LoC has been stuck due to wrangling between New Delhi and Islamabad over the nature of travel documents to be carried by passengers.
Pakistan has refused to accept India's terms that passengers carry visas and passports. Islamabad fears that this move could end up legitimizing the LoC as a permanent border.
At a joint press conference held after their meeting at the Foreign Office, Kasuri and Singh read out their respective statements to reporters.
Kasuri said he and Singh had a "useful" exchange of views and the talks were held in a "cordial, frank and positive" atmosphere.
The two sides had discussions on the issues of Kashmir, peace and security, Siachen, detained fishermen and civilian prisoners as well as water disputes, said Kasuri.
He noted they had agreed to continue the composite dialogue process in "positive" spirit and for constructive results in addressing all their outstanding issues.
On the occasion, Singh described his meeting with Kasuri as "extremely useful and intensive" and briefed the reporters about their talks.
While expressing his belief that cooperation between the two countries was not just a desirable objective and it was imperative, Singh stressed that the Indo-Pak dialogue could only be sustained only in an atmosphere "free from terrorism and violence."
Earlier Wednesday, Singh called on President Pervez Musharraf and Prime Minister Shaukat Aziz. However, no details about the two meetings were given.
Singh arrived in Islamabad Tuesday on a three-day visit, which is the first Pakistan tour by an Indian foreign minister in the past 16 years.
(Xinhua News Agency February 17, 2005)