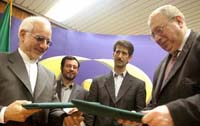 Iran and Russia on Sunday signed a key nuclear fuel agreement, removing the last obstacle to the launch of Iran's Bushehr nuclear power plant which is expected to be operational in 2006.
The plant, located in the southern province of Bushehr, is Iran's first nuclear power plant being built with Russia's aid. In order to prevent Iran from making nuclear weapons with the spent fuel, Moscow conditioned the delivery of nuclear fuel to the Bushehr plant on Iran's signing of a deal which obliges it to return spent fuel to Russia.
Tehran finally agreed to sign the deal after numerous disputes.
Alexander Rumyantsev, chief of Russia's nuclear energy agency, arrived Friday in Tehran to sign the agreement on Saturday after talks with his Iranian counterpart Gholamreza Aghazadeh.
However, the prolonged discussion postponed the signing till Sunday.
The two nuclear chiefs inspected the ongoing construction of the plant where they signed the agreement after holding the second round of talks.
As to the talks, Mohammad Saeidi, a deputy to Aghazadeh, said that Rumyantsev's proposed timetable of the operation was turned down but the two sides were determined to reach a final agreement on the time of its inauguration.
Saeidi referred to Russia's proposal that the opening of the plant be delayed until June 2006.
Aghazadeh told reporters after the signing ceremony that the Bushehr plant would become on stream indeed in 2006, but the exact date was to be determined.
"Our Russian partner is determined to fully install the equipment of the first phase of the power plant in 10 months. Meanwhile, we are looking forward to implementation of the primary phase within the scheduled time with great hope," he added.
Aghazadeh did not reveal the time of dispatch of the first fuel consignment as it was confidential.
For his part, Rumyantsev said that a number of Russian installation specialists are scheduled to arrive at the Bushehr Plant soon.
"We are coming up with arrangements to make up for the delay in implementation of the Bushehr Nuclear Power Plant by sending the reactor's equipment," he said.
"We will do our best to implement the Bushehr Power Plant in the best possible way," Rumyantsev concluded.
Meanwhile, Russian foreign ministry spokesman said that the signing of the agreement did not mean that Russia was going to deliver nuclear fuel to Iran immediately.
"The nuclear fuel would be delivered only after the Bushehr station had become ready for fueling," the spokesman said.
(Xinhua News Agency February 28, 2005)