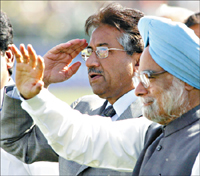 Pakistani President Pervez Musharraf and Indian Prime Minister Manmohan Singh held "very warm" talks, agreeing to set up a panel to boost trade as well as road and rail links, officials said Sunday.
"The talks were wide-ranging and held in a very warm atmosphere," Singh's spokesman Sanjaya Baru said.
The two leaders ran almost half an hour beyond a scheduled two-hour closed-door session after their delegations met, and emerged smiling for the cameras.
The committee would seek to accelerate bilateral trade and launch a train service between Munnabao in India's Rajasthan state and Khokrapar in the Pakistani province of Sindh in December, the Press Trust of India said.
Indian officials had said New Delhi would propose a raft of proposals, some new, some old. They would include reuniting families separated by the de facto border dividing Kashmir on the back of the historic launch on April 7 of a bus service linking the capitals of the divided Himalayan region.
Singh and Musharraf agreed to increase the frequency of the Srinagar-Muzaffarabad bus service across divided Kashmir, official sources said.
Kashmir has since independence from Britain in 1947 been held in part by each country but claimed in full by both.
Cross-border trade, pilgrimages, tourism and promotion of cultural links were also among measures expected to figure on the agenda.
India also seeks an accord on communication links between the two coast guards, a hotline between the foreign secretaries of the two neighbors, naval exchanges and periodic meetings between military commanders.
Pakistan Foreign Minister Khurshid Mahmud Kasuri, who accompanied Musharraf to the talks at the Hyderabad guest house, meanwhile called on the two countries to take a "realistic approach to resolve all outstanding issues between them."
"We want solutions to all problems between us... Kashmir is the central issue," the United News of India news agency quoted him as saying.
"The two countries had fought wars over Kashmir and they must now show maturity to resolve their differences," he added.
India accuses Pakistan of fomenting an Islamic rebellion in India-administered Kashmir, a charge Islamabad denies.
Some 40,000 people have been killed since the beginning of the Islamic insurgency in 1989.
India and Pakistan resumed peace talks after being pulled back from the brink of war twice in 2002.

Musharraf and Singh spent about 90 minutes watching the opening overs of a one-day cricket match between the two nations in the Indian capital before settling into the political talks.
At a banquet for his Pakistani guest, Singh referred to the turbulent history of the two countries and the pangs of birth and separation.
"While I was born in what is now Pakistan, and you were born here, both of us have come to occupy these high offices in our countries," Singh said.
"Fate has placed on our shoulders the burden of a sacred responsibility," he continued. "Clearly, a lasting peace between India and Pakistan is essential to ensure a stable and prosperous South Asia."

The push for peace, Kashmir, better trade and communication links were discussed during Musharraf's "informal" visit to watch cricket.
Sport and politics mingle curiously in this region, with bilateral cricket ties frozen after the Kargil conflict of 1999, when guerrillas seized positions on the Indian side of the ceasefire Line of Control (LoC) that divides Kashmir.
The Pakistani team is touring India after six years. Cricket diplomacy has eased tensions in the past when Pakistani president Zia-ul-Haq visited India in 1987 to watch the two teams play.
Haunted by the failed bilateral summit of 2001 in the northern Indian city of Agra, Musharraf landed in the northwestern desert state of Rajasthan as the humble pilgrim, dressed in a starched white traditional Pathani suit.
"At Agra there was tension and acrimony. Now there is harmony and cordiality," he commented later.

At the dargah or tomb of Sufi saint Khwaja Moinuddin Chisti in Ajmer city, he said a private prayer for peace and then emerged from the shrine in a resplendent pink-and-silver turban, raising both arms to restrain eager security personnel.
He turned to the cameras and stated: "I have brought a message of peace from Pakistan. There can be no progress without peace. I hope my prayers are answered."
Hours later he arrived in New Delhi in a black suit and bright red tie to attend the banquet, where tables were named after rivers that flow through both countries. "Failure is no longer an option," Musharraf said. "I think in the 21st century, the period of conflict management is over. We have entered an area of conflict resolution."
Pakistan defeated India by 159 runs to clinch the one-day series 4-2 yesterday in a game marred by crowd trouble.
Disgruntled fans hurled missiles onto the pitch with the hosts facing defeat after being reduced to 94 for six in the 23rd over.
Riot police moved into the sections where trouble broke out before the players returned after a 15-minute break to finish the match.
(China Daily April 18, 2005)