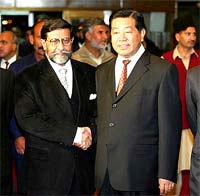 Sino-Pakistani cooperation is in the most fundamental interest of the two peoples and should be continuously consolidated and strengthened, said Jia Qinglin, chairman of the National Committee of the Chinese People's Political Consultative Conference (CPPCC).
Jia, who is on an official goodwill visit at the invitation of Pakistani Senate Chairman Mohammedmian Soomro, made the remarks in Islamabad Wednesday evening during his talks with Soomro.
Jia spoke positively of bilateral relations, and said that since the two countries forged diplomatic ties 52 years ago, Sino-Pakistani all-weather friendship and all-round cooperation have become an example for the relations between countries with different social systems and cultural backgrounds.
He said it is the consensus of the new Chinese leadership and the policy of the Chinese government to consolidate and strengthen Sino-Pakistani overall and cooperative partnership.
China will treat neighbors in a friendly way and as partners, and strengthen friendship and cooperation with all countries in South Asia, noted Jia.
Reviewing the relations between the CPPCC and the Pakistani Senate, Jia said they should continue to promote bilateral exchanges and cooperation as their relationship dates back to the 1960s.
Echoing Jia, Soomro pointed to the special and brotherly friendship between the two countries and the time-tested bilateral relations.
He said bilateral relations are all-round and the two sides have continuously strengthened their cooperation in such fields as politics, economy and people-to-people exchanges.
Noting that there has been close cooperation between the two countries in international affairs, Soomro said the friendship with China is the cornerstone of Pakistan's foreign policy despite international changes.
He said he is convinced that China will play an even more important role in international affairs.
He also said the Pakistani Senate will have more exchanges with the CPPCC so as to help promote the overall growth of bilateral relations.
Pakistan is the last leg of Jia's visit to five South Asian nations.
He had visited India, Sri Lanka, Bangladesh and Nepal before arriving here.
(Xinhua News Agency December 4, 2003)