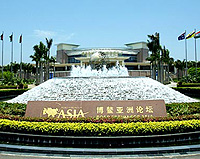 China's development is an opportunity for expanding cooperation between Mexico and China and will fuel world economic growth, said former Mexican President Ernesto Zedillo Ponce De Leon when he and Chinese President Hu Jintao met Saturday on the sidelines of the 2004 Boao Forum for Asia (BFA) annual conference.
One major topic for the two-day conference, an occasion for political leaders, entrepreneurs and scholars worldwide to meet and discuss Asia's future at the picturesque seaside town in the southern China province of Hainan, was China's peaceful rise.
Formally introduced by some Chinese scholars at the BFA annual conference last November, this new concept has been swiftly endorsed by China's new leadership as the most suitable development path for the country.
"I have noted that the current (Chinese) leadership is committed to what we call a peaceful rise, and that's very reassuring and very, very important to the Asian horizon and Asia's landscape," former US President George Bush said at a luncheon hosted by the just-ended BFA conference.
Since the end of last year, Chinese President Hu Jintao has clearly stated on several occasions that China will stick to the development path of peaceful rise. Chinese Premier Wen Jiabao elaborated that China's rise will not "stand in the way of anyone else, pose a threat to anyone or be realized at anyone's expense."
This year's BFA annual conference hosted a roundtable meeting featuring the topic of "China's peaceful rise and economic globalization," which attracted high-level speakers such as Zedillo, former Australian Prime Minister Robert Hawke and former Philippine President Fidel Ramos, as well as participants from Britain, France, Japan, the Netherlands, Sweden and the United States.
"China's peaceful rise is a new phenomenon and major event at the turn of the century and in the new millennium. It has both global and historical significance," said organizers of the roundtable meeting from the China Reform and Opening-Up Forum.
According to the forum's chairman of the board Zheng Bijian, who was accredited the chief mastermind of the peaceful rise concept, a peacefully rising China has an inseverable link with economic globalization. "China's development offers opportunities to other nations. But if it's not so, China itself will also lose development opportunities," he explained.
Having maintained an incredible average annual economic growth of 9.4 percent over the past 25 years, China is now the third largest importer in the world. With a booming manufacturing industry, China is particularly in need of raw materials and has now become the world's second largest petroleum importer only after the United States. As the market-oriented reforms are making the 1.3 billion Chinese increasingly richer, the country also boasts huge market potentials that appeal to all global businesses.
Moreover, the Chinese government encourages more domestic enterprises to "go global," or invest overseas, and more Chinese citizens to make overseas journeys.
Addressing the opening ceremony of the 2004 BFA annual conference Saturday morning, President Hu Jintao told the 1,000-strong participants from 35 countries and regions that China's development is an opportunity for Asia and China's development cannot be achieved in isolation from Asia. The audience showed their approval of this judgment with loud applause.
Faroop Moin, a Pakistani journalist covering the BFA conference, told Xinhua that China's cooperation with other regional countries would bring opportunities for all.
"This is very, very important," he said. "The international community, especially Asian countries, should cooperate with each other to achieve economic prosperity."
(Xinhua News Agency April 26, 2004)