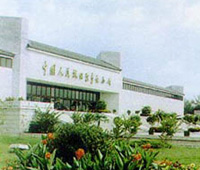 Chinese People's Anti-Japanese Aggression War Memorial Hall is located in the side of Lu Gou Bridge in southwest Beijing. It was opened in the 50th Anniversary of the Break Out of Chinese People's Anti-Japanese Aggression War on July 7, 1987.
The Anti-Japanese Aggression War Memorial Hall covers an area of 23,780 square meters with its total construction acreage of 10,190 square meters. It includes the sequence hall, east exhibition hall, west exhibition hall, semi-view painting hall and etc.
In the central of the step of the memorial's first floor, a cooper sculpture "Awaken Lion" in the height of over 2 meters is standing high and upright. It symbolizes the age-old China like an intrepid lion wake up from sleep after the long period of being aggressed and enslaved. It also symbolizes Chinese people's national spirit of unwilling to yield and rising up for struggle.
On the rooftop of the initial hall, a square-shaped copper bell is hanging, that means "alarm bell always ringing" so as to reminder the people to bear in mind the history forever and learn lessons from the past and guide them in the future. The facade large-scale embossment "impregnable fortress" reflects the Chinese army and people to build up an indestructible steel great wall with their flesh and blood. The two east and west halls exhibit lots of historic cultural relics, treasure documents and photos of the whole national resistant the Japanese aggression army under the guidance of China Communist Party's "National United Front to Anti-Japanese Aggression" principle. Among which, there are great achievement of the Kuomintang Army in the frontal war field and of the

patriotic generals. The length of semi-view painting hall from east to west is 40 meters, and the width from south to north is 20 meters, while its net height is 18.5 meters. It adapts a large curtain with the visual field in the width of 1800, and with the length of 48 meters, width of 18.5, and in the forms of the lamp light, sound, film and slide show to reappear the actual situation of the Chinese army and people tough beat back of the Japanese aggressors in Lu Gou Bridge. The spectators will feel personally in the scene.
Address:
No. 101, Wanpingchengnei Street, Fengtai District, Beijing.
Zip Code: 100072
Telephone: 010-83893163
Opening Time: 8:30 to 16: 00. Closed on Monday.
Bus Route:
Bus Nos. 309, 313, 329, 339 at Liu Li Bridge, please get off at the station of Lu Gou Bridge.
Admission: 15 yuan (US$1.8) for adult; 8 yuan for student
(China.org.cn)