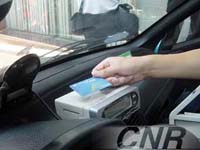 Residents of Beijing can now pay their taxi fares with their credit cards.
A special device that accepts these cards has been installed in 12,000 taxis in the capital.
Customers will still have the option to pay in cash.
Similar systems are being introduced to Beijing's bus and subway services.
(CRI July 10, 2004)