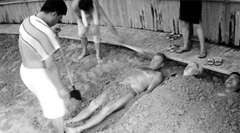 Have you ever heard of such a thing? I would never have known there was so strange a concept had I not run by the term online last week seeking information before a trip to Tanggangzi.
Tanggangzi spa is located in the southern suburb of Anshan, one of China's most famous steel cities in Northeast China's Liaoning Province.
In the past the spa was reserved solely for the use of senior officials but it has opened up and is now regarded as the nation's largest physical therapy base.
The hot springs are a ritualistic first port of call for visitors but I decided to break with tradition and go for the mud bath first.
Mud bath
The online information claims the earth here comes from ancient volcanic ash. And after thousands of years of soaking in hot springs, it finally takes its current unique form, silky and smooth.
The spa's homepage goes on to boast that it is the No. 1 mud bath in Asia. I, however, decided to judge it for myself.
I put on my swimming trunks and luxuriated under a hot spring water shower for five minutes before rushing into the mud bath room.
It is a green stadium-like construction surrounded with a glass wall, looking more like a greenhouse than a bathroom.
There is a big basement under the corridor. In the center sits a wooden platform and a round sludgy pool. Is that a bathtub?
"That does not look appealing at all," I pondered.
About 20 meters away, noise floated out from a closet on the right. That was the mud bathroom, I was told by a staff member.
It was a cloudy day outside. The interior lights were not bright. I could not quite see into the pool. But I was certain of one thing, there was no way this sewer aping bath was the No. 1 mud bath in Asia.
I stopped at one end of the mud pool.
What reassured me a little was that the pool was full of heads. Yes, heads: dozens of them lying side by side in the pool.
All this appeared too weird to be true. Maybe I should mull it over a few more times before venturing into such a muddy pool.
"Hey, boy, it's your turn," a middle-aged man inside the pool shouted with a sharp spade in hand.
There was no way out, I did not want to appear like a coward. I managed to steady my breath and stepped into the tub stiffly, thinking: "Am I crazy? Sometimes curiosity does kill the cat."
The man dug out an oblong pit and asked me to lie down. Then, he dumped mud onto my feet. At that moment, a strange thought occurred to me: So this is what it is like to be buried alive.
First to be covered were my feet and then thighs, stomach, chest and head.
I could barely shut my eyes which were fastened on the knife-edged spade as it went up and down, getting closer and closer to my head.
To my relief, the mud did not fall on my face. Instead it formed a soft, comfortable pillow.
When I broke from the trance I realized everything was fine and the spade wielding man was preparing to bury another new-comer to my right.
That was when I really calmed down and began relishing in the charm of mud.
It felt like lying on the "kang" (earthen bed) of North China in winter. With a small fire beneath the surface, the earthen bed emits gentle warmth that makes one reluctant to get up every morning.
The smooth mud in combination with the geothermal water opens the skin's pores. The mud is like the finest sand on the beach. But it is much silkier.
My back became warmer and warmer. I felt like a sweet potato being baked for a greedy customer with a watering mouth.
Just as I began to drift off into fantasy land, someone started talking in a foreign language.
"They came from Russia and would stay here for one week," explained a female worker while wiping off running sweat with a gentle hand.
Many Russians, Japanese and Americans come here to spend the holiday each year, she continued.
"The mud will not only refresh your body but also cure some joint problems. Especially for office clerks, the combination of the mud bath and massage has magic medicinal power," she revealed warm-heartedly.
Yes. I almost forgot the first-class massage here. With over half a century's history, their massage is unique.
I decided to give it a try, as my neck and right shoulder have been troubling me lately.
I was in the mud for less than 10 minutes, and my sweat pores were gushing. But I found it so hard to get out of my dear mud.
"Time is up," declared a staff member at last.
I found it incredibly hard to remove my body from the glutinous mud. I tried again, but found it too heavy. So I began to sweep it off my chest. I still needed the help of a neighbor to stand and that was when it struck me how utterly exhausted I was, I could not even move my feet!
Then came my chance to try the local specialty: 50-year-old massage.
The massage system is based on traditional Chinese medical concepts that have been practised for hundreds of years. There are also special techniques borrowed from overseas.
It did help relieve the tenseness on my neck and shoulder.
Long history
It is said that it was Li Shimin (AD 598-649), the second emperor of the Tang dynasty (AD 618-907), who discovered Tanggangzi hot spring when chasing enemy. His horse kicked away some rocks by chance and the spring burst forth.
A statue of Li Shimin riding a stallion now stands at the center of the spa.
In the early 1900s, many famous faces graced the place. Puyi (1906-1967), the last emperor of the Qing Dynasty (1644-1911) set up the Longgong (Dragon Palace), which is under repair these days, and Zhang Zuolin (1875-1928), a powerful warlord in Northeast China who was assassinated by the Japanese in 1928, set up a villa for one of his concubines in the area.
(China Daily August 28, 2004)