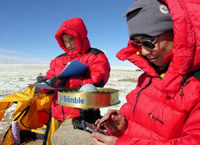 Twenty-two Chinese mountaineers left the base camp of Mount Qomolangma, known in the West as Mount Everest, Wednesday morning to begin their ascent.
During the climbing endeavor, which was originally scheduled for May 5, the scientists will remeasure the summit, which according to China's first measurement in 1975 is 8,848.13 meters.
The mountain straddles the border of China and Nepal.
The mountain climbers will stay at a camp 6,500 meters above the sea level for acclimation for a couple of days before they launch the final assault before May 20, a director of the survey said.
An earlier ascent attempt was hampered by wretched weather conditions late last month, after which the mountaineers retreated to the base camp at 5,300 meters.
(Xinhua News Agency May 12, 2005)