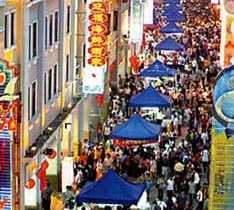 Shangxiajiu Pedestrian Street
Clothes, fashion clothes, factory seconds and plenty of shoes and everything you have ever wanted to buy is here and reasonably priced, but where things are cheap, people gather and here they gather in very large numbers. This shopping street affectionately known as "up down nine street" by the foreign community, is the heart and soul of this city, and mind you on the weekends you can't move down there.
There are bargains everywhere, from the under 10 yuan box with assorted clothes to leather jackets priced around 600 yuan. This is the meeting place, a haven for young people all talking on their mobile phones, and wandering aimlessly around in ever increasing circles, checking out what others are buying and buying it. The prices are marked but remember bargaining always helps. Here the problem is everything is in constant motion making it difficult to stop and actually buy something, but if you want it you can get it. This place is really amazing if you want to see the local population letting their hair down, so as to speak. Shopping is the main pastime is this overly crowded city and here it is full-on all the time, so for that unique shopping experience check this street out.
I would recommend you going there when the dusk sets in, as it's most beautiful in the evenings. The illuminated "Riding Buildings" (Qilou ) with stained glasses looks just fabulous. The covered corridors lining the street and connecting shops on its either side reflect a combined heritage of Chinese and Western architecture.
Starting Sept 1, this street is closed to traffic seven days a week for more convenience to shoppers and tourists. This is the second section of road in Guangzhou to follow this practice after Beijing Road.
To adapt to the change, the city's public transport authorities have adjusted the bus routes and are now planning to allow traditional hand-pulled two-wheeled vehicles on the road.
The Fangcun plant, flower and pet market
This is the place to go if you need to give your rather drab apartment the natural look and fit it out with the potted ferns and the potted flowers. Everything comes in pots so it is a bit of a hassle getting it home on the Subway, so don't go overboard with the pennies as most things are reasonably cheap. Also when the lovely little puppies are looking rather cutely at you just remember you have to register dogs so if your neighbours complain that rather cheap excursion to Fungcun could get very expensive, but I have never actually heard of anybody getting a license. Also be warned most dogs are not the standard Peking Dog and after a few months your lovely little puppy might turn into a large guard dog. This place is easy to find and easy to get to. J ust go to the last stop on the Subway, the other end from Tianhe and it is right there. At the moment with summer nearly in full force, if you want the place to yourself you can go there at lunchtime, but I recommend the morning or the evening.
Yide Lu Toy Market
If you are into toys or the little things that children and school kids like you gotta take a walk around this place. It's up the other end of Yide Lu from Haizhu Square by Renmin Road and it is actually a few buidings, not just one market even though there is one big modern market surrounded by little old town markets that look like they have been around for a long time. This is a wholesale place but as always they will sell you one off things at a price of course, so bring out your bargaining skills. Also check the price at other shops as you can buy most things at many different places. I found it reasonable here and most shops are not going to rip you off because they know you can buy the same things around the corner. Anyway if you have a free afternoon, check it out, it's worth the time.
Zhongshan 6 Computer market
This is the next best thing to the Tianhe computer markets. It has got it all, but on a very small scale and the prices are just as good, but you have to look around as the prices bounce a bit between shops. It is easier to shop here as there is a lot less to look at. Weekends are good as the place is packed and there is always the odd school kid or computer buff that speaks English so you have no problem getting what you want, whether it is just a few games or a cheap homemade computer. This place is handy, just get off the subway at Ximenkou station.
(Southcn.com December 4, 2002)