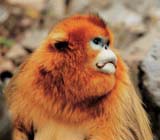 The golden monkey is a rare, beautiful primate living in dense forests in a few parts of China. So photographing them isn't always easy. In order to get as close as possible, I joined Li Baoguo, a professor at the School of Life Science of Northwest University, and his students and entered the golden monkeys' nature reserve deep in the Qinling Mountains of Shaanxi Province. A long, arduous trek led us to the dense forest at the north foot of the watershed of Qinling, where we heard golden monkeys crying to communicate with one another. Out of breath and exhausted, we hurried our steps. Eventually, we found nearly a hundred golden monkeys playing in a dense copse of trees.
This is a community composed of several families, each confined to a thicket of its own. The families drank beside a stream according to social status: the more powerful the family, the higher the priority for them to drink. Under the leadership of the only adult male in a family, other family members, old and young, drink water by turn. Holding my breath, I fixed my camera on these monkeys, and recorded the amazing moment.
Of the four species of golden monkeys, the Sichuan golden monkey is distinct for its appearance. It has a blue face, and even its lips are blue. On its body grows thick, golden hair. It has supreme elegance, as if it were born to be a king.
Most Sichuan golden monkeys live deep in forested mountains in Sichuan, Gansu, Shaanxi, and Hubei provinces. Except for the Shennongjia area in Hubei, they share habitat with giant pandas. One of their major habitats is the Qinling Mountains. There, some 4,000 golden monkeys live in groups deep in forests, shrouded in mist. Traces of golden monkeys are found in Zhouzhi, Ningshan, Yangxian, Taibai, and Foping counties.
The social organization of Sichuan golden monkeys is based on small family units, each composed of one male adult and many female adults and their children. When the children grow up, the females stay with their own family. The males are exiled. Exiled males from different families then form an all-male unit, and its individuals will follow the single-male families, always ready to replace the aging dominant male. The social structure seems simple, but complicated relations occur under this structure, which is rare among other species of primates.
Sichuan golden monkeys mainly feed on wild fruits, leaves, and burgeons. In addition to seeking food, they spend most of their time grooming themselves or others. This behavior provides more than simple hygiene. It is also a way to keep members of a family unit together and maintain relations among individuals of various social classes.
The shortage of natural resources and the existence of social classes for the golden monkeys in the Qinling Mountains lead to frequent battles, some of which occur within a family, and some between different family units. Young golden monkeys often chase or fight each other, practicing for real battles. Usually females are initiators of mating activities. They run around the males, indicating they are ready to copulate. Males then cry out to court the females, or they copulate directly.
At present, there are a total of four species of golden monkey in the world, including the Sichuan golden monkey, the Guizhou golden monkey, the Yunnan golden monkey and the Tonkin golden monkey. Three of these species live only in China, and they are nearly as rare now as the giant panda.
Just as the government has constantly enhanced the conservation of natural environments, people have become aware of the importance of wildlife protection. Local residents now live in harmony with such wild animals as golden monkeys. They even take measures to help these animals-friends of mankind-through the chill of winter. Gradually, these timid animals accept human beings among them, in their world. Thus, we humans can conduct close observation and research on golden monkeys to shed light on their kingdom.
(China Pictorial November 14, 2003)