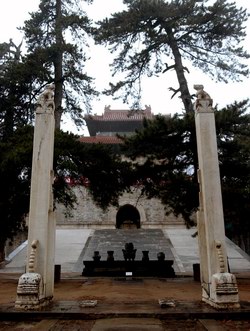 Kangling, one of the 13 Ming Tombs in north Suburban Changping District, reveals a new look after two months of renovation. Newly inscribed as a World Heritage Site, the Ming Tombs outside Beijing have been given a new lease of life as a major tourist draw.
Kangling mausoleum, located in the northernmost area of the site, is rarely visited by tourists other than hikers. Owing to a poor state of repair, it was in ruins. The surrounding walls had mostly collapsed into debris before the renovation project launched in August this year.
Only the golden dragons atop the yellow glazed tiles signify the special status of the tomb occupants, as the colour yellow and dragon images were for the exclusive use of the imperial family.
There is no charge asked for visiting Kangling so far.
To get there, drive along Jingchang Highway to Changping Exit and then go northeast 15 kilometers following road signs.
Sunday hike trip
Time: Sunday, November 23
Pick up: 8:30 am at the Lido Hotel outside of Starbucks
Return: 5:00 pm to 5:30 pm
Driving time from the Lido: two hours
Walking time: three to four hours.
The route: This is a trail connecting two villages. Most trails like this are disappearing because villagers are starting to use gas rather than firewood. With better roads built in recent years, less people use the mountain trails. It is very lucky to find this still used trail.
Cost: 150 yuan (US$18) each person.
To join BJ Hikers and sign up, please mail huilin@bjhikers.com or call Huijie at 1391 002 5516.
Reservations are essential.
(Beijing Weekend November 21, 2003)