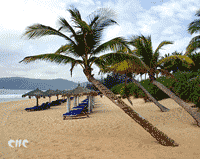 Rising out of the South China Sea between Guangdong and Vietnam, the island of Hainan was for centuries dubbed the "land's end." Its isolation from the Chinese heartland made Hainan one of China's poorest and most backward regions - until 1989, it did not even own a single taxi. Since then, however, it has undergone a swift transformation that has vaulted its profile in the nation's consciousness. This process continues today as Hainan, now a province in its own right, seeks to leverage its bounty of natural beauty and abundant sunshine to turn itself into an international travel destination to rival Phuket and Bali.
Since 1996, Hainan's tourism has benefited from extensive attention from all levels of government. Often touted as "China's Hawaii," the island's selling points include its tropical climate, fine sandy beaches, landscapes of rainforests and mountains and culinary diversity. Additionally, Hainan has recently become the test case for the liberalisation of China's tourism laws. In July the island was the first region in China to institute freedom of the skies, meaning that foreign carriers based in countries with which China has signed "open skies" agreements have access to its two international airports in Haikou and Sanya. The net result of this liberalisation, industry experts believe, will be an increased flow of tourists and a boost to Hainan's economy.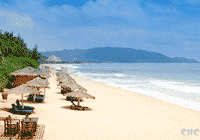 In the past five years the government of Sanya -- Hainan's most well-known coastal city -- alone has invested more than RMB 15 billion in building tourism-related infrastructure including roads, a modern sewage system, international passenger dock, sight-seeing areas, hotels and resorts. "At the moment, our overall strategy is to expand the quantity and enhance the quality of the island's tourism products," says Li Baiqing, deputy director of Sanya Tourism Industry Development Administration.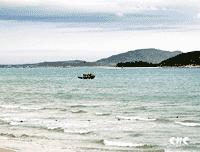 Yalong Bay, with its seven-kilometer stretch of smooth sands backed by clear waters, palm trees and rolling mountain ranges, is one of Sanya's many tastefully developed tourist areas. In 1992, the Yalong Bay Development Company, a subsidiary of the China National Cereals, Oils and Foodstuffs Import & Export Corporation, was set up with the aim to turn the area into an international-standard tourist destination. Now, newly paved broad roads are flanked by lush tropical forests and paddy fields. Anchoring Yalong Bay is Central Plaza, a 70,000 square meter space facing the bay that incorporates sculptures, fountains, a seashell museum and a "butterfly valley." Deluxe resorts have snatched all the prime locations along the bay and built spectacular properties. Among them is the sprawling Sheraton Sanya Resort, whose two wings are shaped like a pair of towering cruise ships that jut into manicured lawns leading directly into the sea.

More establishments are on the way. Shangri-La, for example, is planning a 555-room luxury resort that will be opened in 2005, which will include a 1,500 square metre spa and wellness facility, fresh and saltwater pools, tennis courts, mini golf and a water sports centre.

"We welcome the competition," says Gerhard Fink, Sales and Marketing Director of Sheraton Sanya. "These big-branded hotel chains usually have a well-developed global sales network whose staff can go around and tell potential clients about this island... because what Hainan really needs the most now is international exposure." Michael Sengol, the General Manager of the opulent Crowne Plaza Hainan, agrees. "The government has just realized the potential of leisure tourism and it needs to speed up the development process to make up for lost time... It might be a little difficult for Hainan to take over Thailand, but I feel confident it can surely compete with Bali."

(Xinhua News Agency December 17, 2003)