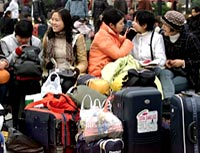 In the nation's crowded train carriages during Spring Festival, it was reported each square-metre of floor space was holding 13 passengers. So there must be at least someone, according to calculations, standing on a single foot.
Sounds unbelievable? I choose to believe it is true, based on my own experiences. Of course, nobody was staging a single-foot show. There must be some curling up on the luggage racks, squatting in the toilet, or lying under seats.
The inconvenience, or rather suffering, is obvious during the journey, which can last dozens of hours at a time.
Still, they felt lucky. Despite all the hardship, they finally squeezed themselves into a train that would take them home. Home, sweet home. Think about the millions of others who were still waiting in endless lines for a ticket.
These are typical scenes during the peak traffic time around Spring Festival. Over nearly one month, filled to their capacity, trains were creaking, buses crawling ahead, planes taking off and touching down, day and night.
It was the large-scale population mobilization that has opened the curtains of each Spring Festival over recent years. The unique Chinese phenomenon has become almost a symbol of the Chinese New Year. Like eating dumplings, but with a bitter taste.
With an ever-growing transient population, the chronic headache is becoming increasingly serious, imposing unbearable pressure on the already shaky transportation system.
There have been no lack of efforts to propose a remedy, but the solution is apparently still blowing in the wind.
Such a concentrated and huge passenger flow during each Spring Festival originates from such complicated factors that it goes beyond the scope of ordinary public management.
The direct and most obvious reason can be attributed to the increasing mobility of the population, including millions of transient workers. This year, passenger flow hits a record 1.9 billion individual voyages.
To move so many people within such a short time period would be a tough mission for almost every country, let alone China, which has comparatively weak transportation facilities.
Take the railways, which bear the brunt of the nation's long-distance transportation, for instance. Their total length in China is only 6 per cent of the world's total, while China's population is 22 per cent of the world's total.
So there is an urgent need to improve transportation capacity, especially the railways.
Construction of such infrastructure projects, however, takes time. Increased capacity, no doubt, will greatly relieve traffic pressure, but is unlikely to solve the problem once and for all when considering the flow's concentration.
To divert passenger flow might be a solution, but how?
Try to persuade people to willingly avoid the peak time and visit their families at other occasions? Do not forget, it is Spring Festival, cherished by so many for so long.
No one would like to give up the chance of joining their families unless the last bit of effort for a ticket ends in vain.
Then how about using financial tactics, such as price hikes?
This resort, in fact, has already been practised over the past three years by the railway transportation department, and proven to be a failure.
Higher fares still have not stopped visits to home, but rather led people to tighten their budgets, especially for migrant workers, who constitute the majority of the mobilized population.
The railway department has also ignited sharp public criticism for raising ticket prices. To divert traffic flow, it is pointed out, is nothing more than an eloquent excuse for them to pursue exorbitant profits.
For their departmental gains, the supposedly public-benefit sector is using people's desire to be with their families against them, especially during such an important occasion, critics say.
Superficially, the movements of the population during Spring Festival can be explained by the Chinese nation's tradition of cherishing family reunions. And it does make sense.
But we should look beyond that to factors which create such a massive transient population, which stands at some 100 million now.
Behind the growth of this gigantic transient group are significant social and economic changes in China.
It all started in the late 1970s, when the country's dramatic reforms were kicked off. The new flexible production and organization systems in rural areas made it possible for farmers to move about freely. On the other hand, economic reform and the consequent economic boom in cities have created numerous job opportunities, which have attracted redundant rural labourers to fill the vacancies.
Large groups of rural workers have left the countryside behind and flooded to cities. Some have been doing odd jobs, while others have become industrial workers.
It is the rigid household residence registration system and a series of welfare systems affiliated to it which bar these rural labourers from becoming urbanites, even though some have worked, lived and paid taxes in various cities over several years.
The same system makes it costly for their families to join them in those cities.
Like migrant birds, this group of people travels between their hometowns and workplaces every year.
The transient group will certainly shrink when these people's working and residence places are united.
Concerning the industrialization and urbanization process, and the reform of the decades-old household residence registration system, it is surely an arduous and complicated process for the integration of transient workers into cities.
Great traffic pressure, as a result, is certain to accompany us for the coming Spring Festivals in the near future.
But it does not mean that amid loud public complaints, the transportation departments should sit idly by. Still there is much room for improvement, even though the problem cannot be rooted out yet.
For instance, they should try their best to provide more convenience for people struggling for a ticket, via prolonging working hours and adding more stands to sell tickets.
There are a number of reasonable adjustments, including putting additional trains and buses into priority lines.
More importantly, no effort should be spared to ensure traffic safety.
May the day arrive soon when the journey home for Spring Festival can be an easy and pleasant one.
(China Daily February 14, 2004)