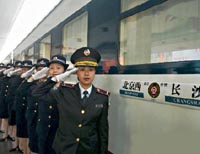 With the Labor Day holiday week approaching, travelers are gearing up for holiday trips.
And many will benefit from a move across the nation to accelerate the country's railway networks.
Others will be grateful for the postponement of an expected increase in air ticket prices.
The increase that was supposed to take place from April 20 to May 10, will now be put off for a still undetermined time, officials said. The rise will coincide with rising aviation fuel prices. .
The train acceleration is welcome news to travelers, some of whom spend days traveling across the nation for family reunion.
The newly launched No Z9 non-stop passenger train from Beijing to Hangzhou roared out of Beijing Railway Station at 6:53 pm on Saturday, marking the beginning of the country's fifth rapid railway network. It is part of its campaign to increase the nation's average speed for passenger trains to 65.7 kilometers per hour, up 4.3 kilometers per hour, with top speeds reaching as much as 200 kilometers per hour in some sections of track, Ministry of Railways officials said.
Passengers will benefit greatly from the speed acceleration plan, since ticket prices will remain unchanged while traveling times will be lessened and the traveling atmosphere will be improved.
For example, the operating time of the No K356 train connecting Guangzhou and Chongqing will be shortened by more than 12 hours.
To upgrade speed and service quality, the nation launched 19 sets of non-stop express trains over the weekend. The new express trains, to be marked with Z on the schedule, will run from their departure stations to their final destinations without stopping en route..
It has been reported that some air carriers will initiate a price hike on popular routes by 10 to 25 percent beginning April 20. And after May 10, airfares will be raised as much as 25 percent.
Tourism is closely affected by air ticket pricing since - according to industry insiders - airline costs account for half of the costs of domestic travel business.
The Labor Day holidays traditionally mean golden business opportunities for travel agencies.
Air China will add 992 extra charter flights during the seven-day Labor Day holiday.
International charter flights will mainly be focused on routes to the Maldives, Singapore, Phuket in Thailand, and Pinang in Malaysia. Domestic charter flights will cover cities such as Hangzhou, Qingdao, Yantai, Haikou, Sanya and Guilin.
(China Daily April 19, 2004)