China's drive to save water has come to Guanli Village, Sujiatun District, in Shenyang City.
Wu Zhenqi, a farmer in the village in northeast China's Liaoning Province, said: "I have to save water. If I use an extra ton of water to irrigate one mu of farmland, I will need 54 more tons of water a year on my 54 mu of contracted land. That is too dear."
The mu, a traditional unit of measurement, equals one-fifteenth of a hectare.
The village water saving association has issued an electronic card to each farmer, stipulating the amount of water to be used according to the size of each farm's rice fields.
Chinese farmers have become keenly aware of the significance of water conservation.
China, with 1.3 billion people, has inadequate and unbalanced water supplies. According to the Ministry of Water Resources (MWR), with 6 percent of the world's fresh water resources, China ranks sixth in the world. However, its per capita water resources are only a quarter of the world's average, ranking 121 out of 153 countries.
In October, Wu was overjoyed to see fields of mature rice swaying in the breeze in his fields, which run along the local Hunsha irrigation canal. "I will have a bumper harvest this year, because of the canal that irrigates my farmland," he said.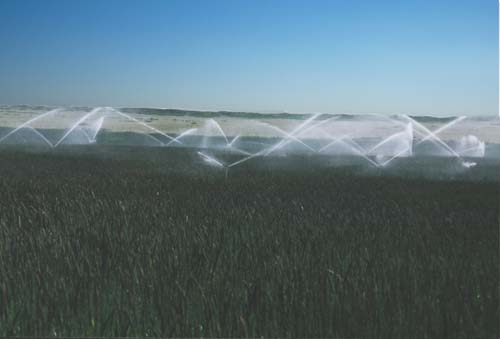 The file picture published on March 11, 2008 shows a water-saving irrigation project in Tianzhu County, northwest China's Gansu Province. 
Irrigated farmland has provided a solid foundation for China to boost its annual food supply from 320 billion kg in 1980 to 500 billion kg in 2007, agricultural officials said.
China expanded irrigated farmland from 730 million mu in 1978 to 867 million mu in 2007, according to the Ministry of Agriculture (MOA). This farmland totals 46 percent of all arable land.
To date, China has created 434 large-scale irrigated areas, averaging more than 300,000 mu each. These irrigated areas account for one-eighth of the country's arable land but can produce one-quarter of its food.
But China has much to do when it comes to water conservation for farm irrigation, where the efficiency of water use is low. China produces less than 1 kg of grain with 1 cubic meter of water, less than half the level in developed countries.
Chinese farmers only receive 46 percent of the water re-directed from rivers and lakes to their fields. The rest leaks or evaporates in transit, while developed countries manage to use 80 percent of such water.
Grain production is a special priority in terms of agricultural water conservation. Agricultural irrigation accounts for 65 percent of China's annual water use, which totals 560 billion cubic meters, and grain production consumes the bulk of the water used in agricultural irrigation, agricultural officials said.
"Without water, farmers can hardly farm," said Water Resources Minister Chen Lei. "But if we do not promote agricultural water conservation, we will gradually fail to meet the target of producing more than 500 billion kilograms of grain each year."
China sorely needs to save water, which is in ever-greater demand for industrial, residential and environmental protection purposes. These uses are squeezing the amount of water available for farm irrigation.
Even more problematic, traditional but wasteful irrigation methods are still used in most areas of China. For instance, on the Chengdu Plain in the southwestern Sichuan Province, farmers still flood their land with the water from the Dujiangyan Irrigation Works built more than 2,250 years ago.