The Tangjiashan quake lake in Sichuan province continues to rise, even though water is being drained out through a diversion channel since Saturday morning.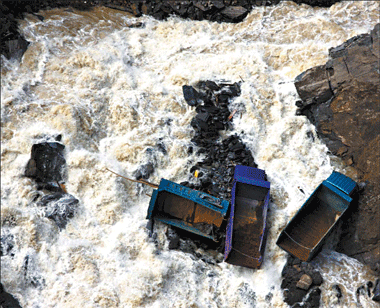 Abandoned trucks flow like toys in the sea of water gushing out of the Tangjiashan quake lake in Sichuan province yesterday. The volume of water flowing into the lake's drainage channel has increased, but the authorities still worry heavy rainfall and aftershocks can cause a breach in the lake's dam leading to flash floods. [Photo: Xinhua]
The water level reached 742.58 m above the sea level at 8 pm yesterday, an increase of 1.3 m in 24 hours.
The level is 2.58 m higher than the drainage channel soldiers have dug, through which water has been flowing for the past two days.
The lake was holding 248.6 million cu m of water at 8 pm, with an average inflow of 115 cu m per second.
Water appeared to be flowing out smoothly through the drainage channel. But even after military engineers fired 10 short-range missiles yesterday to blast the boulders in the channel, the flow increased to just about 81 cu m per second, still less than the rate of the inflow.
Helicopters landed every 20 minutes on the lake's dam, carrying soldiers and detonators to blast the rocks that were creating a bottleneck in the channel, but that didn't seem to help much.
Three tons of dynamite were used yesterday and on Sunday to blast the boulders and widen the channel to 10 m from less than 5 m on Saturday.
More than 20 bulldozers are still working to make another diversion channel in the hope of accelerating the outflow of water further.
A 5.0-magnitude aftershock jolted Pengxian county, 20 km from the provincial capital of Chengdu, at 3:28 pm yesterday, the China Earthquake Administration (CEA) said, raising fears of damage to the lake dam.
A Xinhua reporter on the spot said the aftershock was felt in the lake area too. "We could feel the dam shaking and saw rocks rolling down the mountains around the lake. Experts are monitoring the lake water and dam for safety."
In the 24 hours ending yesterday noon, 189 aftershocks were recorded in the quake zone, the CEA said, with the number reaching 11,194 since May 12.
More than 250,000 people downstream have been relocated for fear of flash floods.