Chinese automakers are making a dash to develop new energy cars to cater to the potential high demand arising from customers who are increasingly becoming environment conscious.
Shanghai Automotive Industry Corporation Group (SAIC), China's largest automaker, is leading the pack with an over 12-billion-yuan investment in the research and development of hybrid engines and is planning to begin the manufacturing of its own-brand of fuel-saving vehicles in 2010.
Li Jirong, vice-president of SAIC, said that the Chinese automotive industry would soon experience a bottleneck unless it could succeed in shifting its focus to upgrading their research and production capabilities to build clean and energy-efficient cars.
SAIC's 12-billion-yuan package will be invested in 41 major projects, including hybrid and electric cars.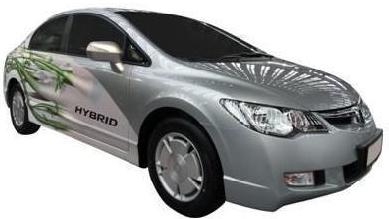 File photo: A hybrid car
According to SAIC, it will launch its first hybrid vehicle, Roewe 750, which consumes 20 percent less gasoline, in 2010.
Geely, a Zhejiang-based privately owned company, has launched a five-year new energy program, and plans to develop five hybrid sedan models. It also plans to sell 10,000 units of hybrid cars by 2010.
Besides, Geely is also going to release a model of electric car, Geely Panda, within the next year.
"New energy vehicles are the future of the automobile industry; nobody can ignore the future. However, the traditional turbo engine is the 'present'. If we lose the 'present', how can we move to the future?" Zhao Fuquan, vice-president of Geely, asked, indicating that new energy technology and traditional engines were equally important.
Dongfeng Motor Group, China's third-largest automaker, will cooperate with Detroit Electric to research, develop and sell electric vehicles in the country.
The two companies are also in talks to set up a joint-venture company to manufacture, assemble and supply the electric drive technology to the Dongfeng Group and other automotive manufacturers.
Last week, the Economic Observer reported that Yang Rong, the former chairman of Brilliance China Automotive Holdings, who fled the country after being accused of economic crimes, is preparing to invest 40 to 45 billion yuan initially to set up a manufacturing base that can produce 3 million engines and 1 million vehicles.
The investment would focus on energy-saving cars with lower emissions and the first model would be launched in 2012.
According to statistics, over 30 Chinese automakers are involved in the development of new energy cars, including Chery, Geely, BYD and Dongfeng.
This year, the government has strengthened its efforts to support new energy cars, and favorable policies to boost consumption of "green cars" have been initiated in many cities, like Guangzhou, Chongqing and Shenzhen.
"It's risky for SAIC to plunge such huge investment into new energy vehicle research and development, because currently, it's still not clear that what kind of new energy will power the future automobile," said Cheng Yuan, a senior auto columnist with Economic Daily.
Experts said new energy cars would account for less than 10 percent of the total number of cars in China by 2020.
Frost & Sullivan China estimates that total sales of hybrids will be 11,000 units in 2010, growing to 30,000 units in 2012 when public perception of the technology expands and costs decrease. The firm estimates 95,000 hybrid units, or 0.9 percent of the total market for passenger cars, in 2015.
(China Daily July 17, 2009)