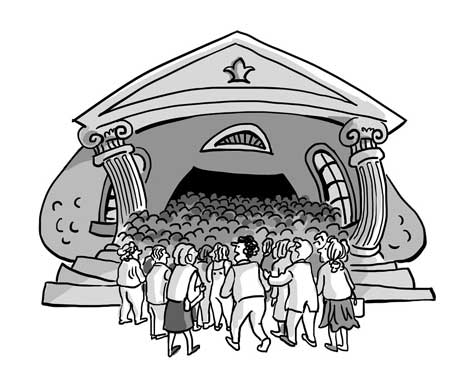 [By Liu Rui/Global Times]
After being lucky enough to be one of the over 8,800 visitors to the National Museum of China on its first day after dropping fees, my friend Kathie had high expectations for her museum trip. But she came back frustrated.
What annoyed her was not the long queues or the four hours in the exhibition hall with no food or water, but that she had witnessed some unbearably uncivilized behaviors at a site supposed to display the heights of Chinese civilization.
Queue jumpers were inevitable as crowds of visitors flocked into the museum. Some visitors sneaked past barriers to put their hands on the sculptures when taking photos. Tour conductors had to herd their tour groups at the top of their voices. As so many were queuing for toilets, a grandma even taught her grandson to pee in the corner of the wall.
"Why are they bringing their toddlers to a museum? Can babies understand culture?" my friend complained as a true culture lover. But not all visitors are like her and in fact, in some Chinese museums, art galleries, and even libraries, visitors are far from respecting the rules.
Since 2008, Chinese visitors have gradually enjoyed free access to museums and libraries. Not long ago, Cai Wu, minister of culture, officially declared at a press conference in front of the National Art Museum that China's art galleries were now free to the public. One of the direct consequences of cultural places going free is sharply increased numbers, a problem shared with many famous museums worldwide. For instance, London's British Museum sees between 10,000 and 20,000 visitors a day.
Crowds of visitors undoubtedly bring challenges to museums and art galleries. Some artifacts and art pieces have to be kept in stable environments, which a larger number of visitors can compromise. Clumsy and curious tourists can also damage pieces.