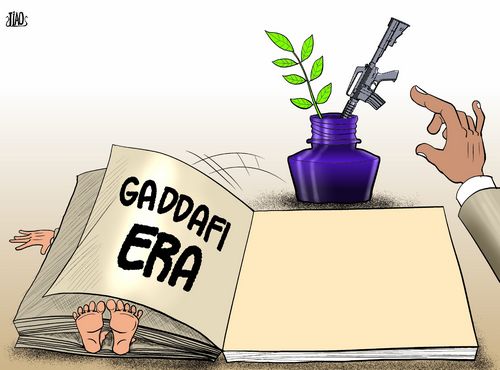 In your hands, TNC [By Jiao Haiyang/China.org.cn]
As the news of Muammar Qaddafi's capture and death was announced, Libya once again became the focus of the world. The new masters of Tripoli are celebrating their victory in their final major step of destroying Col. Muammar Qaddafi's regime, and the West is cheering the success of the will of the many as opposed to the few. The scenes in Tripoli easily bring into minds what happened in Iraq eight years ago, when Saddam's statue was pulled down to the ground, and also the joyful TV screens months ago, when Al-Qaeda leader Osama Bin Laden was killed.
However, in Libya it is too early to declare the triumph of democracy. And it is naïve to expect the emergence of a new Libya will be quite different from the one ruled by Muammar Qaddafi. The overthrow of Qaddafi in many ways actually resembles the manner in which Qaddafi originally came to power September 1, 1969, when a coup d'etat led by Qaddafi toppled the Libyan Idris Dynasty.
Modernization has greatly diluted the color of Libya's tribal nature. Most Libyans are now living in the urban areas, working for various modern industries and travelling with Libyan passports.
However, all these modern ways of life have not changed the country's nature as a tribal state. With more than 140 tribes and clans, Libya is considered one of the most tribal states in the Arab world. Since people are divided according to tribes, they are more identified with their own tribes instead of the nation. Likewise, Libya's politics is mainly characterized by the conflicts among different tribal groups, including discrimination, hatred and revenge killings.
It is out of either poor understanding or other concealed purposes that the West categorized Libya's street demonstrations and later civil war as a revolution against authoritarianism. Libya's internal conflicts are in many ways a continuation of traditional infighting between tribal groups living in its western Tripolitania and eastern Cyrenaica, which in particular have a shaping role in modern Libyan politics. Even during Qaddafi's reign, these groups contributed to problems for the ruling regime.
The West would label Libya's power transition as being from a dictator to civilian rule, but in reality, it is from a western tribal group to an eastern tribal group. The transition represents a reversal of Qaddafi's ascension in 1969, when he toppled the Idris Dynasty representing the interests of Cyrenaica tribes.
After so much bloodshed, Libya certainly has the potential to be a modern state without tribal hatred, given that it has rich oil resources. But it will largely depend upon whether the Transitional National Council (TNC) will define itself as state authority instead of a tribal authority. Taking on such an identity would enable it to adopt a reconciliatory and inclusive approaches in the forthcoming reconstruction. Such measures include the distribution of political power among tribes, whether the winning tribes or the defeated tribes, but also equal distribution of the wealth of natural resources.
The prospects for a modern, functioning state in the long run will depend upon whether the future Libyan government will be able to reform its tribe-oriented culture and tribal politics so that historical conflicts can be resolved.
Otherwise, Libya without Muammar Qaddafi will not be able to move forward. What's worse, a Libya without equal distribution of state wealth and equal political balance will remain in conflict. The possibility of Libya will divide into parts even cannot be excluded.
Qaddafi is gone - the lessons gained from his rule should be learned. A stronghold against the west, he contributed to the unification of Arab world, and integration of Africa, whether for the causes of the regional people or for his own personal ambition. But his failures were critical - he failed to modernize Libya's tribal culture and political structure.
The author is a columnist with China.org.cn. For more information please visit http://www.china.org.cn/opinion/jinliangxiang.htm
Opinion articles reflect the views of their authors, not necessarily those of China.org.cn