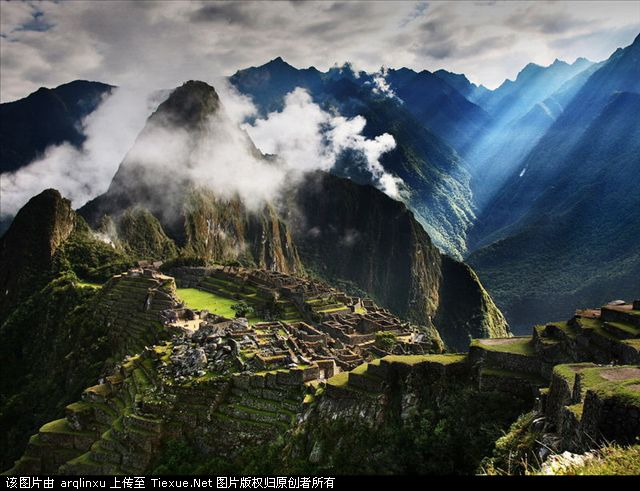 Machu Picchu [By arqlinxu@tiexue.net] 
Lately, many of us have been culling our list of countries to visit.
Many nations carry warnings because of civil strife, ubiquitous explosions or just random violence. Yet, here is some good news for a change: Visit Peru!
I just returned from a visit there, invited by the University Ricardo Palma for lectures. With lots of travel under my belt, I was impressed by Peru and recommend a visit.
People are very kind and welcoming. When they say òmi casa es su casaó they really want you to feel at home. They immediately provide appetizers or tea.
Employees are empowered: At lunch at my hotel I told my visitors how hammering in the room next to us had awakened us. The lunch manager overheard our conversation, expressed his apology, and refused any payment for lunch for all four of us.
All university events we attended were accompanied by music, poetry, flowers, dance and song.
There was ongoing reference to the need for balance in life. Work has to be within a context of enjoyment. What an inspiring idea!
The country's mountain city of Machu Picchu reflects Inca history, capability and determination. It also shows an extraordinary clash of cultural values in the 16th century.
The Inca used gold for wallpaper on rocks, to reflect the much revered sun. The invading Spaniards saw gold as treasure, and wanted lots of it. The Inca complied by filling rooms with treasure (or wall paper) only to be murdered in appreciation.
It turned out to be beneficial for Spain not to keep any gold artifacts, but to melt them all down and re-issue them as coins of the realm. That way, nothing had to be returned to Peru. But even today, Peru continues to be a leading producer of many valuable commodities, among them silver, gold, and copper.
Peru and Peruvians like to be part of the world. For example, there are at least eight towns and villages in the United States carrying the name of Peru. The government has initiated contact with all of them, with a particular focus on Peru, Nebraska, in order to build relationships.
Peru's athletes are quite successful, with women world champions in both featherweight boxing and ocean surfing. Peruvian chefs have opened highly rated restaurants, both in Lima as well as in New York.
The minister of the economy discusses how the gap between poor and rich can be bridged. There is little talk about socialism, but much about how to boost simultaneously the economic performance in the Peruvian beach areas, the mountains, as well as the desert.
Foreign investment is welcome and sought after. There are many ideas floating about how to serve clients better, and make investment opportunities more attractive in order to achieve a minimum annual growth rate of 6 percent.