Unlike the US, China experienced a hard winter and an unususally cool and wet spring. As a result, fresh fruits and vegetables were in relatively short supply during the first quarter of 2012. Vegetable prices climbed 6 percent in March from a month earlier which resulted in a 20.5 percent increase since last year.
China's general inflation rate averaged 3.8 percent in the first quarter of 2012. Compared with February's 3.2 percent (per year) rate, March's 3.6 percent (per year) rate was something of a surprise. Fruit and vegetable prices were not the only contributors to the higher than expected inflation numbers as higher fuel and raw material prices, as well as higher minimum wages, shared some of the blame.
Beijing has stated that its 2012 target for inflation is to keep it under 4 percent. It is no secret that controlling domestic inflation, and especially food price inflation, is fundamental to maintaining political stability.
To counter rising food prices, Beijing plans to increase the minimum wage by as much as 13 percent a year for the next five years. This policy in and of itself is conducive to a higher than otherwise general inflation rate, however, such a move may make sense when one considers the typical Chinese worker spends up to one third of his or her income on food.
China, the world's second largest economy, expanded at an annual rate of 8.3 percent during the first quarter of 2012, its slowest pace in nearly three years. If this trend continues, 2012 will become China's weakest economic growth year in a decade. Without sufficient economic growth, jobs that are already in short supply will become even scarcer. This will exacerbate the serious and growing problem of income distribution. Needless to say, the challenge for Chinese policy makers is to keep inflation under control while providing sufficient economic stimulus to satisfy a public that is used to near double-digit economic growth.
In the past, China has relied upon an export driven economy to foster its near double digit economic growth. Critics have complained for years that China has unfairly kept its currency artificially low relative to the US dollar and other world curencies to promote its products overseas. Such critism has been voiced in various US political settings for many years, including the early stages of the current US presidential election cycle. However, it is interesting to note that the Chinese RMB has appreciated 14 percent against the US Dollar during the last two years and it has strengthened 45 percent during the past seven years. The data from the past year as shown in the graph below suggests that this trend will continue.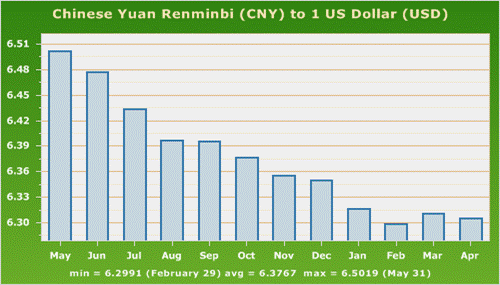 Source: http://www.exchange-rates.org/history/CNY/USD/G/M
Given the data, it is not surprising that "China Bashing" on this economic issue has been rather muted in the US during recent months. Furthermore, China announced on Apr. 15 that the RMB would be allowed to move in a broader trading range than before (one percent versus one-half percent per day). Immediately, US Treasury Secretary Timothy Geithner said "China's recent decision to let its currency's value increase compared to the dollar is "significant" and "promising". So, one might ask, why have the Chinese apparently bowed to world opinion and given in more to exchange rate market forces?
The answer is probably a very complex combination of factors. However, a stronger Chinese RMB may very well curtail Chinese domestic inflation. Chinese consumers will find cheaper foreign goods in their markets and in return this will put downward pressure of similar domestic goods. Chinese importers of foreign raw materials and subassembly components will enjoy lower relative prices. Furthermore, the prices on imported petroleum and petroleum products will be reduced. Therefore, it is conceivable that a stronger RMB is in the best interest of Chinese policy makers.
The author is a columnist with China.org.cn. For more information please visit: http://www.china.org.cn/opinion/tylorclaggett.htm
Opinion articles reflect the views of their authors, not necessarily those of China.org.cn.