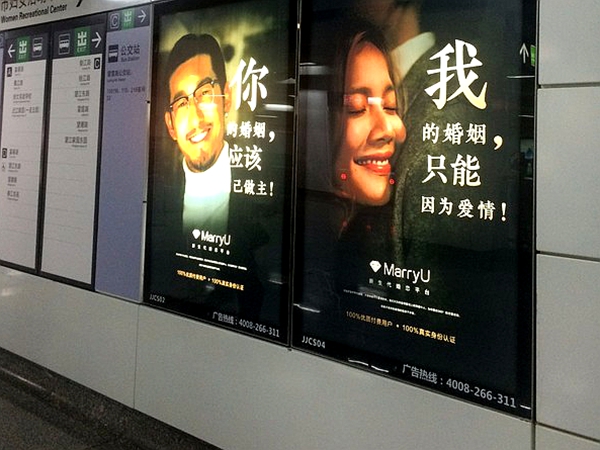 The "MarryU" ad in the subways. [File photo]
The "MarryU" ad in the subways is set on a black background, its logo featuring a golden-colored diamond, aptly symbolizing riches and prosperity. Is that what love symbolizes? Is marriage even about love in China?
The ads are for a new dating app in China. In the West, dating apps and websites are now old concepts. Some sites have been in operation for 30 years like, Matchmaker.com, founded in 1986. This Western site's name harkens back to a time with matchmaking practices existed even in Western countries. Now, most modern Westerners navigate the world of dating and possible marriage without outside (older generation) intervention.
Conversely, I have found Chinese families are still involved in matchmaking discussions, especially for young people nearing the age of 30. Each potential partner is heavily critiqued and assessed by families and tight communities.
I am someone who married into the Chinese culture, admittedly into a liberal family that did not influence their child's decision and who were willing to accept a foreigner in their midst.
Yet, even in such an open-minded family, I have witnessed discussions about the family's young unmarried relatives, i.e. analyses about potential mates' material possessions, family background, career prospects and certainly his or her height, weight, and lightness of complexion (yes, the lighter the skin, the better). The question as to whether the young people are in love is not even broached; love is secondary. Finding the right combination of conditions most favorable for the family predominate.
And then there's the discussion about whether a person is "marrying up" or "marrying down." I've come to understand that it's considered unthinkable for a woman to marry down. Men may be permitted to marry down, only slightly. And if men find themselves marrying up, it can't "too up."
By this, I mean that most Chinese people say that it is preferable for men to find women whose families are just slightly below them in socio-economic status and who are likewise just slightly below them in terms of educational level and career status.
It is, after all, still a sexist society. Men can't lose face. Women can be below the men, but the opposite is not preferable. This leaves the highly successful and intelligent women often passed over by men who don't wish to lose face by marrying "too up."
This speaks volumes of intense prevailing sexism in China. It's terrible to imagine a world here in which the intelligent and professional successful women are not finding love and perhaps are missing the opportunity for propagation, thus not distributing their exceptional genetic code into the next generation.
China desperately needs such strong feminist genetic lines to be extended so that the country can grow into a more egalitarian, global society. These cultured women deserve to find love and fulfillment so that their daughters will not only exist but will be inspired to also be strong, determined, ambitious women in society in China's future. Perhaps that is why so many intelligent Chinese women seek foreign men?
However, getting back to the "MarryU" website, the ads read in such a way as to truly demonstrate where modern Chinese society lies on the path towards romantic autonomy. The answer is: not very far; there's a long way to go.
One ad shows a smiling, handsome man and the Chinese copy reads: "Your marriage should be your decision." Here, we see the advertiser appealing to a man's need to control the situation, to determine his future, to be the driver of the vehicle of life.
Having it written in second person is effective here: the advice from the greater public is heard by the reader and absorbed into their sense of autonomy.
Another ad, featuring a beautiful woman hugging a man whose face is not shown, her face buried into his shoulder, eyes closed and smiling, has Chinese copy that reads: "My marriage will be based on love." Here, we have the ad directed at women who are considered to be more interested in love and emotional satisfaction than control or self-determination.
She is pictured hugging a man taller than she is, experiencing a sense of fulfillment, which appeals to a woman's desire for strength and security. And the ad written in first person is significant as it becomes a personal plea that women can relate to: a promise to one's own heart.
As women are rarely called upon to direct things, it is their own private, isolated desires - like a diary kept hidden - that will resonate for female readers.
Even the website's name reflects the current state of modern Chinese society. The site is called "MarryU," which puts the focus on outwardly obtaining matrimony (not receiving, as in "Marry Me"). It's about seeking marriage actively and completing this obligatory rite of passage.
And while this app is offering to help do this independent of family, it capitalizes on the same beliefs still prevalent in modern China: that marriage is the goal (the app's name) and that prosperity is paramount (the logo and symbolism). It's simply got a slightly modern twist: that it should be one's own decision (for the men) and about love (for the women.)
So, while there is some development here in terms of self-actualization and the valuing of emotional attachment, I fear this website is just an organizational tool taking the discussion off the family dinner table and literally puts it into the hands of the single people seeking love.
With their phones and tablets, they can sort out the conditions they (and their families) feel are necessary for their mates to possess: education levels, career status, age, physical statistics, etc. In this way, it's not much different than Western dating websites.
Yet, Western sites aren't about marriage as the ultimate goal; it's about human compatibility. What we Westerners do with that compatibility, whether it is marriage or friendship, co-habitation or a casual sexual connection, is entirely up to us.
The author is a columnist with China.org.cn. For more information please visit:
http://www.china.org.cn/opinion/emberswift.htm
Opinion articles reflect the views of their authors, not necessarily those of China.org.cn.