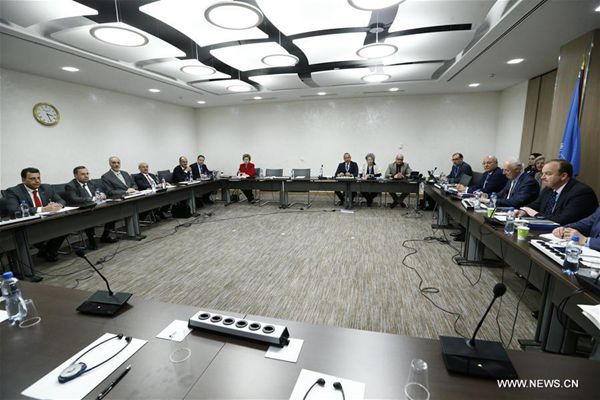 Photo taken on March 29, 2017 shows a general view of a meeting between UN Special Envoy for Syria Staffan de Mistura (2nd R) and Syrian government delegation during Syria peace talks in Geneva, Switzerland, March 29, 2017. [Photo/Xinhua]
In the latest proof that the theory of deterrence is working, Australia suspended its bombing campaign after a threat by Russia stating that all Western fighters will be considered potential targets and will be tracked whenever they cross the West of the Euphrates River. Australia, with its small but significant contingent of fighters, were taking part in the Allied bombing campaign against ISIS, although Australian planes mostly focused on Iraq and didn't cross much into Syria.
This comes one day after two significant and potentially destabilizing developments happened in Syria. The first was the incident in which for the third time ever, a U.S. navy fighter shot down, in direct air-to-air combat, a Syrian air force fighter plane. U.S. Central Command stated that a Syrian air force SU-22 was dropping its payload on the Syrian Democratic Forces, who are being supported by the U.S.-led coalition as they advance on the ISIS capital Raqqa, when they were told to stop bombing by coalition forces. After the plane carried on, the coalition engaged the Syrian aircraft and shot it down.
"In accordance with the rules of engagement and in the collective self-defense of Coalition partnered forces, it was immediately shot down by a U.S. F/A-18E Super Hornet," the statement read, while adding, that it is not the U.S. intention to engage any forces of Russia or any other great powers. However, the U.S. will take every step to make sure that coalition forces are safe, in "collective defense."
It is hard to overstate how big a deal this is, as this is only the third time in recent history an F/18 shot down another plane in direct combat, the last time that happened was in 1991, during the Gulf war, when two Iraqi Mig 21s were shot down. Similarly, this is the first time in the Middle East that a plane was shot down in combat by another plane since the French fighters shot down one of Gaddafi's birds.
The second incident, which happened within minutes, was Iran firing ballistic missiles and dramatically escalating its role in the conflict. Iran is heavily invested in Syria including with troops and support, but this marks an uncharted escalation where Iran used a show of deterrence. The military utility of using a ballistic missile is debatable. There is nothing that Russian planes or Iranian troops present in Syria couldn't do, that Iranian ballistic missiles did, other than proving the fact that Iran has ballistic missiles which are fully functional and capable.
The target of this message is not ISIS, even though the IRGC is framing it as retaliation for the Tehran attacks. Had it been so, the slow rate of counterattack would actually raise questions about Iranian prowess. This, on the other hand, is a deterrence message to the Saudi hegemony, as well as to the U.S., or anyone planning for a war with Iran. Iran will possibly lose in any such conflict, but has the potential to raise the cost to unbearable levels for the U.S. and its allies. The timing chosen by Iran couldn't be more symbolic, with a dreadful war going on in Yemen, the Saudi blockade of Qatar and Chinese warships visiting Iran for a naval exercise.
Forget for a moment that there's literally no legal justification of any Western forces being in Syria. It is illegal as per international law, as Syria is still a sovereign state and at no point of time did it invite any power other than Russia, nor are they UN authorized missions. It's a plain old simple game of great power politics. Its legality within the U.S. itself is stretched, as it is a continuation of the AUMF 2001, without any special approval or authorization from Congress to the President.
Unfortunately, the quick succession of these two events mean, we are essentially one miscalculation or mishap away from a full on great power war in Syria. Regardless how one can spin it, the legality of a U.S. strike of a Syrian plane in Syria, in support of U.S. proxies, is dubious. Not to mention the double standard of expecting other great powers to follow international law and the rule of law and institutions.
Nor is the fact that there is zero discernible interest in Syria for the West, and the existential threat is much higher for the Axis powers like Iran and Assad and even Russia which stands to lose its only Middle Eastern base, compared to the U.S. and its allies. Naturally in the ladder of escalation, the axis will always be prepared to tone it up a notch.
The Syrian regime might take this strike as a start of a bigger offensive of regime change. In the fog of war, the perception of the enemy blurs. No one is of any opinion that Syria will ever be unified or have a government or a state like it used to have. That will never happen. The best that other powers could do at this stage is to call for dialogue and divide Syria into zones, with the primary intention of stopping the war immediately. Unfortunately, and I certainly hope I am proved wrong, but this latest salvo from both sides look like the first stage of an escalatory spiral.
Sumantra Maitra is a columnist with China.org.cn. For more information please visit:
http://www.china.org.cn/opinion/SumantraMaitra.htm
Opinion articles reflect the views of their authors only, not necessarily those of China.org.cn.