China's gymnastics captain Chen Yibing kissed his silver medal and beamed at the crowd but admitted to feeling short-changed by the judges when he was pipped by Brazil's Arthur Zanetti for the rings gold in his final Olympic Games yesterday.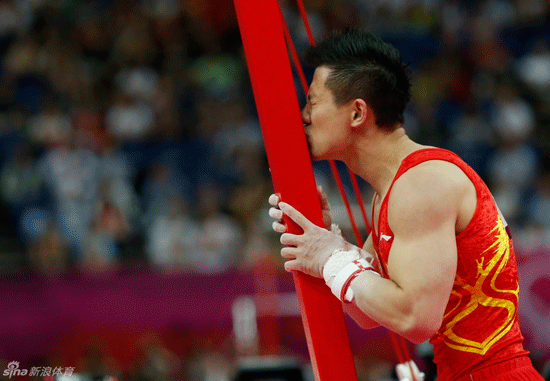 Chen kissed the red frame of the apparatus after his routine.
Yang Hak-seon triumphed in the men's vault final to hand South Korea its first ever Olympic gold medal in the event.
The 27-year-old Chen, a three-time Olympic champion dubbed the "Lord of the Rings" by adoring Chinese fans, appeared to have the title sewn up after a strong performance and a solid landing. He was stunned, however, when the Brazilian, the last competitor to take the rings, scored 15.900 to pip him by 0.1 of a point, despite taking a step back on his landing.
"It's still good, it's a silver medal," the amiable Chen said with a laugh.
"I was a little bit surprised... Seeing him not stand (perfectly) on the landing, I thought I would have beaten him. But when the score came out he was the winner. But I still have to congratulate him. I really did bring my best today."
Chen kissed the red frame of the apparatus after his routine and waved the "No. 1" finger at television cameras, but walked out of the arena as runner-up for a prolonged interrogation by a large throng of Chinese reporters. He promptly announced his retirement.
"I decided before these Olympics because my body has a few injuries and there's a lot of new talents coming through," he said.
Chen, who had already taken a men's team gold here last week, injured his knee training in Northern Ireland two weeks before the Games. It was reported as "minor" injury but Chen said he had carried the painful injury into the competition.
The eight-time world champion started gymnastics when he was five and won his first rings and team world titles in 2006, before going on to win both events at Beijing Games. His retirement robs the world of one of its greatest rings specialists, but Chen, mindful of China's vast strength in depth, was at peace with his decision to bow out.