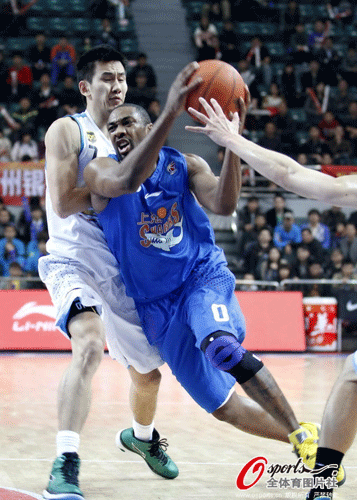 Gilbert Arenas scored a CBA career high 45 points in Shanghai Sharks loss to Fujian Tturgeons on Jan.30, 2013.
The Shanghai Sharks slumped to the bottom of the Chinese Basketball Association table after enduring a heart-breaking 108-114 loss away to the Fujian Sturgeons last night.
Shanghai's Gilbert Arenas scored a game-high and CBA career-high 45 points and pulled down eight rebounds but it was still not enough despite the team rallying from an early 25-point deficit.
Already knocked out of the playoffs, Shanghai suffered another embarrassment, slipping to last in the 17-team league after previous cellar-dwellers, Tracy McGrady's Qingdao Eagles, won 135-130 over the Shanxi Brave Dragons on Tuesday. Shanghai is 8-20 to Qingdao's 8-19.
"For us a win or a loss does mean much now," said Shanghai's interim head Coach Wang Qun. "We just hope to play well in our own way in each game."
Yesterday's loss was the team's fourth straight. Fujian is only slightly better off, in 15th place in the league.
In Jinjiang, Fujian Province, the Sharks were gob-smacked early, conceding a plethora of turnovers to fall 25 points behind at 18-43 at the end of the first quarter.
"Agent Zero" Arenas, coming off the bench, led the rally, at one point narrowing the gap to four points at 101-105, which included a 7-0 run. However, it was as far the Sharks could go as the Sturgeons converted their free throws to stay ahead.
Shanghai, which played without injured skipper Liu Wei last night, faces Foshan Long Lions in the next round tomorrow.
For yesterday's other games, defending champions the Beijing Ducks lost 104-109 to the Zhejiang Golden Bulls. Stephon Marbury contributed 34 points and six assists but also had seven turnovers. The Bayi Rockets won 118-114 over Foshan in overtime, with Foshan's Shavlik Randolph notching a game-high 55 points.