Driving
0 Comment(s)Print E-mail Wikitravel, June 4, 2008
Adjust font size:
Vehicles
1 Car
Renting a car normally is not recommended for the ordinary visitor. Besides being extremely expensive, driving in Beijing can be quite complicated, language difficulties included. Many hotels, however, rent cars that come with drivers, for those who can afford it, up to 1000 yuan per day.
2 Motorcycles
The Chinese climate is generally conducive to motorcycle riding, and you see bikes everywhere.
There are some restrictions. Motorcycles are forbidden on most freeways and some cities forbid them in the downtown core, in an effort to control traffic congestion. For example, motorcycles are banned from downtown Guangzhou and Hangzhou, and in certain areas of Beijing and Shanghai. Riding a motorcycle into these prohibited areas can lead to fines and possible confiscation of the bike. There can also be licensing complications; for example in some places a bike registered in a suburb cannot legally be ridden in the nearby city.
There are motorcycle-based tours of various areas, often with rental of a Chang Jiang included:
HC Travel, based in UK, offer Chang Jiang tours to Great Wall,Tibet and Mongolia
Dragon BikeTours Chinese based, offer a Silk Road tour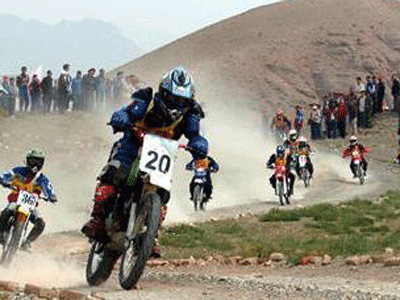 The 8th annual Motorcycle Tourist Festival in Yinchuan. Yinchuan has an annual Motorcycle Tourist Festival in late June.