Driving
0 Comment(s)Print E-mail Wikitravel, June 4, 2008
Adjust font size:
3 Sidecar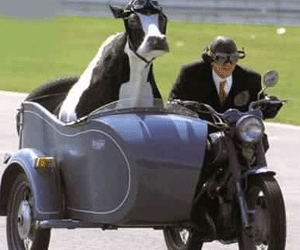 The most interesting bikes in China are Chang Jiang. Back in 1938, BMW designed a 750 cc flat twin side-valve sidecar rig for the German army. At the end of the war, the Russians moved the entire factory to the Urals and began producing Dnieper and Volga bikes to that design. They also gave or sold China the equipment and Chang Jiang are the result. There's also a modernised version with overhead valves and electric starter. These are not your high performance sport bike; even the new OHV model is only 32 horsepower. However, they were designed for military use and are very solidly built. They are 20-odd thousand yuan new. They are invariably sold and ridden with the sidecar; it might not be possible to license them without it.
There are lots of older Chang Jiangs around and if you buy one that is old enough, it may be classed as an antique vehicle. This might mean it is exempt from your country's import restrictions; most safety and pollution laws have some sort of exemption for antiques. This is risky; some people have lost bikes at customs. You need a thorough understanding of your country's regulations before even considering it.
One vendor that does this type of export is Sidecar Solutions in Beijing. They also rent bikes, organized tours, and help with Chinese drivers licenses. Another Beijing Chang Jiang specialist with similar services is Gerald. It is common for a rebuilt machine from one of these vendors to cost somewhat more than a new bike straight from the factory would; people say they are worth it because of the better quality control.
4 Electric scooters
Electric scooters are common and cheaper than motorcycles (1,500 yuan for a base model, 3,500 yuan for the top-of-the-line). While they lack the horsepower and range of a motorcycle, they are quieter, cleaner, lighter, and easier to maintain. Scooters come with a battery (or batteries) that are usually removable as well as rechargeable from a household outlet. At least in some cities, these vehicles are licensed as a bicycle so one does not need a driver's license to ride them and may take advantage of bike lanes and sidewalks (if present) to circumvent traffic.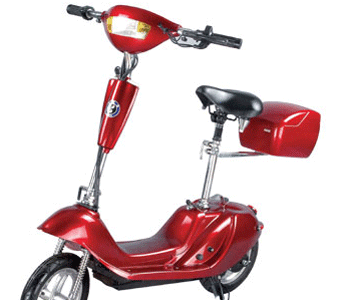 Scooters are a target for thieves, so always ensure that one or, ideally, both wheels, are secured with a solid lock. Batteries as well are liable to be stolen and should be locked to the scooter with the built-in mechanism or stored indoors while not in use. Some residences allow for scooters to be brought indoors over night, which is preferable.