In Sichuan, 50 people who lost their husbands or wives in last year's earthquake held a group wedding celebration on Sunday. The reception was held in the newly built Qiang Village not far from the old county seat of Beichuan.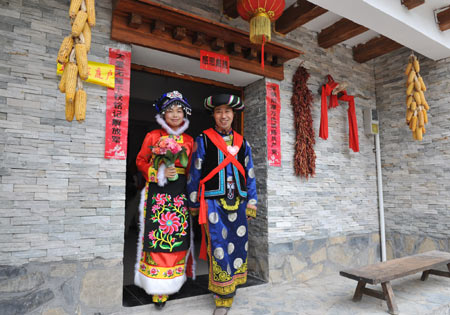 Bridegroom Tang Zhiguo (R) and his bride walk to attend wedding at the Jina Qiang Ethnic Minority Village of Beichuan County, southwest China's Sichuan Province, April 26, 2009. Twenty new couples held group wedding here on Sunday. [He Junchang/Xinhua] 
It's a big day for these 20 couples. The wedding starts with tree planting to symbolize life and growth. The idea is particularly appealing to people who want a new start.
Few weddings could attract so much media attention. A year ago, the earthquake brough devastation and heartbreak to these people. But now, that has been replaced with joy.
Yang Changbin and Zhou Xiaohong lost their spouses and children in the earthquake. They were introduced by relatives and decided to start over again.
Yang Changbin and Zhou xiaohong said, "We hope to build a happy family together. Both of us had happy families before the earthquake. Life has to go on and we need each other's care and support for a new beginning. The marriage restores our confidence in life. And because we endured the same pain, we understand each other very well."
Not all couples were widowed. This is Wen Xianping's first marriage.
Wen Xianping said, "My husband lost his wife in the earthquake. He was very sad. I encouraged him to cheer up. Our personalities match very well. And as a wife, I know I should take care of his life and his psychological happiness."