By Wang Ke
China.org.cn Multimedia Team
Michael Barbalas, President of the American Chamber of Commerce in the People's Republic of China (AmCham-China), gave an exclusive TV interview to China.org.cn in which he expressed his views on Sino-US clean energy and environment bilateral cooperation, and the upcoming first "strategic and economic dialogue" between US and Chinese leaders in in Washington D.C. on July 27 and 28.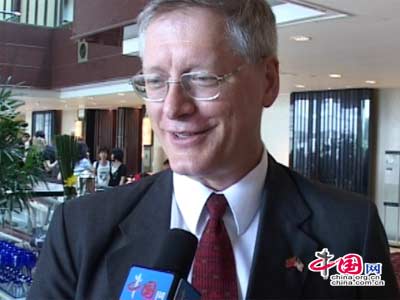 With its membership comprising more than 2,600 individuals from over 1,200 companies the AmCham-China is a non-profit organization which represents US companies and individuals doing business in China.
AmCham-China has more than 40 industry- and issue-specific forums and committees, offers unique services such as the Business Visa Program, holds a wide range of networking and informational events, and meets with US and Chinese officials to discuss challenges and opportunities facing US firms doing business in China. The Chamber's mission is to help American companies succeed in China through advocacy, information, networking and business support services.
(China.org.cn July 16, 2009)