China and the United States on Tuesday jointly released a fact sheet on strengthening U.S.-China economic relations, on the occasion of Chinese Vice-President Xi Jinping's current official visit to the United States.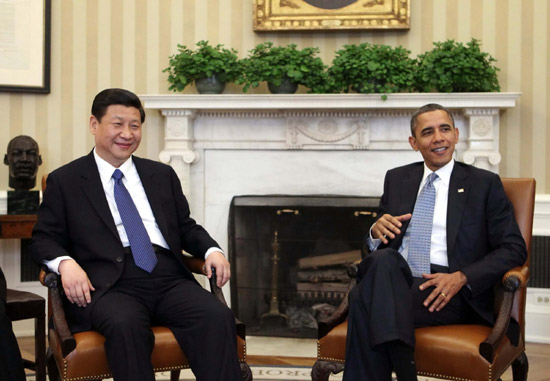 China's Vice President Xi Jinping (L) meets with U.S. President Barack Obama at the White House in Washington, February 14, 2012. [Photo/Xinhua]
The two countries vowed to promote the healthy and steady development of their bilateral cooperative partnership based on mutual respect and mutual benefit. They also agreed to build on the consensus reached by the presidents of the two countries during Chinese President
Hu Jintao
's state visit to Washington in January 2011.
They pledged to promote strong, sustainable and balanced growth of the two countries, cross-border trade and investment, financial sector development and to strengthen international cooperation.
The joint fact sheet said that under the framework of the Economic Track of the U.S.-China Strategic and Economic Dialogue (S&ED), the two countries recognize the following outcomes.
Promoting strong, sustainable and balanced growth
1. To address challenges to the global economic outlook, the United States and China pledge to enhance macroeconomic cooperation to work to ensure that the global recovery is durable and promotes steady job growth, and to establish strong, sustainable, and balanced future global growth. The United States and China commit to take comprehensive policy measures to achieve more balanced trade and expanded investment in each other's economies. China wishes to increase imports from the United States, including commercial high technology products.
2. The United States and China are committed to continuing to exchange views on developments in European financial markets and discuss approaches that can support Europe's own efforts to respond to its sovereign debt crisis.
3. The U.S. economy is rebalancing toward sustainable growth, with higher domestic savings, a commitment to long-term fiscal sustainability, and productivity-enhancing investments. In line with the President Barack Obama's FY2013 budget, the United States commits to achieving more than 4 trillion U.S. dollars in deficit reduction over the next 10 years, including 1 trillion U.S. dollars in discretionary spending reductions enacted last year, and to gradually reduce debt as a share of the economy from the middle of this decade.
4. China is committed to improving the livelihood of its people and actively expanding domestic demand, with increasing consumption as a strategic priority. During the course of 2012, China is to intensify structural tax reduction policies, including pressing ahead with the "VAT for business tax" pilot reform and making adjustments in import tariffs at the appropriate time in order to increase consumption, accelerate development of the services sector, actively expand imports, promote balanced trade, and satisfy the demands of people's lives.
5. China and the United States reaffirm their G-20 commitment to move more rapidly toward more market-determined exchange rate systems and to enhance exchange rate flexibility to reflect underlying economic fundamentals, avoid persistent exchange rate misalignments, and refrain from competitive devaluation of currencies. We are determined to act on our commitments to exchange rate reform articulated in our Action plan for Growth and Jobs to address short term vulnerabilities and restoring financial stability and strengthen the medium-term foundations for growth. Our actions will help address the challenges created by developments in global liquidity and capital flows volatility, thus facilitating further progress on exchange rate reforms and reducing excessive accumulation of reserves.