The Chinese science fiction romantic comedy "Mermaid" is truly "invincible" as it has become the highest grossing Chinese film ever in a record time.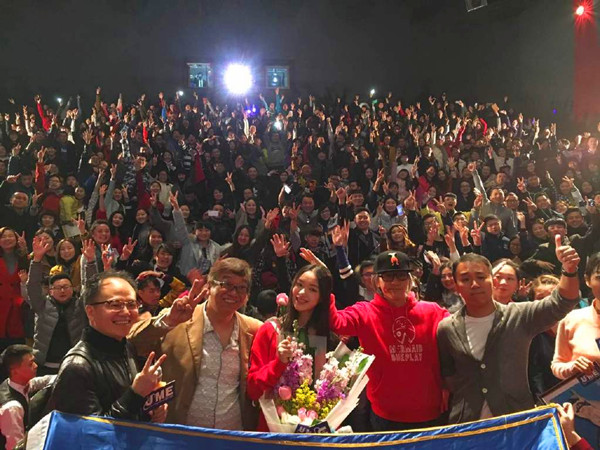 Stephen Chow and his "Mermaid" crew pose with fans in Chongqing City, Feb. 18, 2016. [Photo courtesy of official Weibo account of "Mermaid" / China.org.cn] 
The film, directed by Stephen Chow and starring Deng Chao, Show Lo, Zhang Yuqi, and newbie actress Lin Yun, took in 2.45 billion yuan (US$375.58 million) by 6:00 p.m. on Friday, officially surpassing "Monster Hunt."
This film, directed by Raman Hui, Hong Kong animator and DreamWorks Animation employee, grossed 2.439 billion yuan (US$374 million) in a two-month period last year, and raised the standard to a whole new level for Chinese home-made films.
Before its debut, it was said the distributors had bet "Mermaid" would gross an astronomical 2 billion yuan, but its actual performance showed this figure was far too conservative as a benchmark figure for the film industry
It was released in China on Feb. 8, Chinese lunar New Year's Day facing stiff competition from rival blockbusters "The Man from Macao III" and "The Monkey King 2." However, it broke almost all box office records such as the biggest opening day and the biggest single day gross through its seventh day of release, as well as the biggest opening week of all time in China, with new landmarks appearing each day within hours of each other.
A poster for "Mermaid" milestones proclaims it has become the highest grossing Chinese film ever. [Photo / China.org.cn] 
The film tells a story of a playboy businessman (Deng Chao) who falls in love with a mermaid (Lin Yun) that had been sent to assassinate him. The film received generally positive reviews though some critics were hard on it, calling it "trash" with old and cliche tricks and no groundbreaking progress evident in Chow's artistic evolvement.
Clearly, however, audiences love Chow's effort more than critics and the box office performance speaks for itself.
It grossed more than 230 million yuan a day during the Spring Festival, and even since it has continued to earn more than 100 million yuan on ordinary working days, which has never happened before.