An instant hit
The popularity of the film has continued to rise since its premiere at the 21st Shanghai International Film Festival, where it received seven rounds of standing ovations. In recent days, limited advanced screenings have begun around China and the film has taken in more than 150 million yuan (US$22.53 million) at box offices, a staggering test result. Some film critics are calling it China's "Dallas Buyers Club" meets "Schindler's List."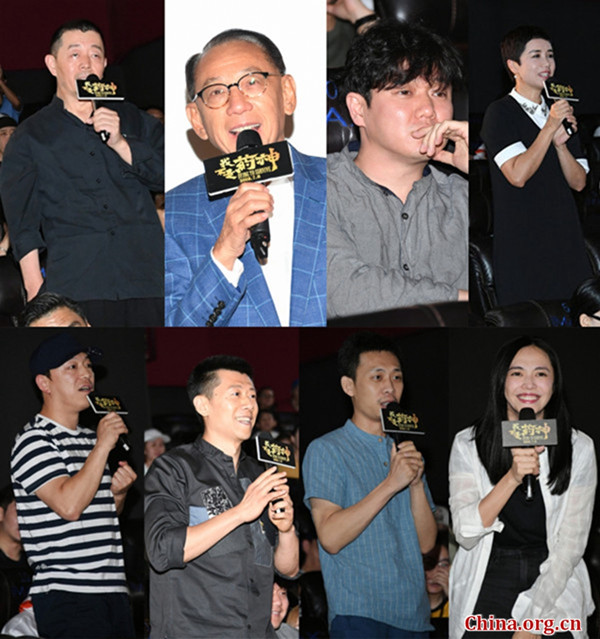 A photo collage of director Gu Changwei, Emperor Group chairman Dr. Albert Yeung, director-and-actor Xiao Yang, actress Jiang Wenli, actor-director Huang Bo, actor Xia Yu, actor Zhang Yi and actress Yao Chen all sharing their thoughts after viewing an advanced screening of the film "Dying to Survive" in Beijing, July 3, 2018. [Photo/ China.org.cn]
The good news led the producers and distributors to release it one day ahead of schedule, on Thursday, and on its opening day – a normal working day – it grossed another 160 million. This brought the total gross to 323 million yuan (about US$48.52 million) even before its original release date of Friday arrived.
Meanwhile, on the film review site Douban.com, the film's rating stands at 9/10 based on 153,700 reviews from users, a rare high score for a domestic-made film. Industry insiders have already predicted it will hit the 3-billion-yuan (US$450 million) mark in the near future if the full potential of the film is unleashed.
"I believed 'Dying to Survive' will surpass 'Operation Red Sea,'" actor Zhang Yi said excitedly after attending an advanced screening in Beijing on Tuesday. Dante Lam's "Operation Red Sea," which Zhang starred in, grossed 3.64 billion yuan (US$546.94 million) earlier this year and is the second highest-grossing Chinese film in history.
From real life to the screen
"With courage, facing reality and challenges, the film is a work of conscience, responsibility and love," director Gu Changwei said in praise of the film.
The power of "Dying to Survive" is drawn from a true story. Lu Yong, a textile entrepreneur who was diagnosed with leukemia in 2002, proceeded to smuggle into the country the unapproved Indian-made generic version of Gleevec – originally developed and manufactured by Swiss drug company Novartis – for himself and many others to get treatment at an affordable price. The man was detained by police in Yuanjiang, Hunan province in 2014 for allegedly selling counterfeit drugs. He was seen as a charitable hero and later more than 1,000 leukemia patients wrote to China's authorities begging for mercy. The prosecution dropped the case against him and released him in 2015.