To address the issue of overpricing and to ease the financial burden of cancer patients and their families, the State Council of China pledged in May of this year to adopt a combination of different measures. They include removing tariffs from imported cancer drugs, slashing VATs and altering import procedures, as well as prompting procurement by the centralized government and the incorporation of much-needed cancer drugs into the medical insurance reimbursement catalog.
"It is very different now; very few patients approach me for Indian drugs," Lu added. "This film reflects that era, and also reflects the progress of China."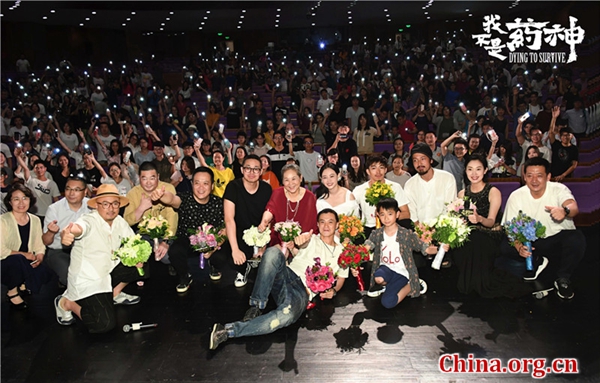 The cast and crew of of the film "Dying to Survive" pose with audience members who hold up their mobile phones with flashlights turned on, in a Tsinghua University auditorium, July 2, 2018. [Photo/ China.org.cn]
A touching moment occurred at the end of the promotional event at Tsinghua University, during which the audience members en masse turned on the phone flashlights to shine starry lights of hope.
Lu's friend Yi Ran and fellow patient Li Qun, who is also a retired policeman and poet, stepped up on stage to read a poem by Li that served as a tribute to life: "Life and death are very close / To bloom or to fall takes only an instant / A long road lies ahead, but heaven and sunshine are not actually far away / With the coolness of autumn rain and the warmth of the morning sun / I come back alive from heaven, and know spring is everywhere in the world."