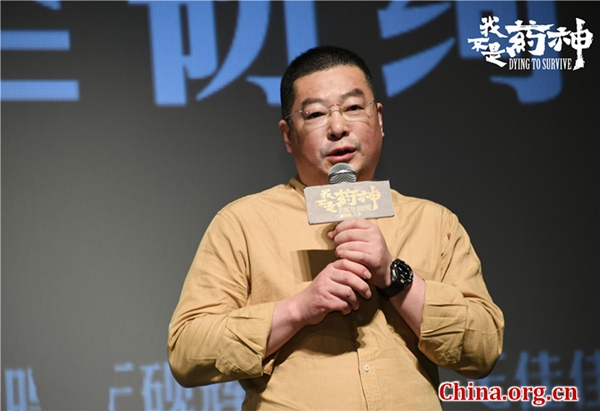 Lu Yong, a leukemia patient and archetype for the leading character of the film "Dying to Survive" speaks at a promotional event held at Tsinghua University, July 2, 2018. [Photo/ China.org.cn]
His legend touched Han Jia'nyu, a new screenwriter in the industry, after she saw a TV program about him in 2015. "I cried many times when I searched for information about this man," she said. Han also admitted that when she created the script, she was influenced by the Steven Soderbergh film "Erin Brockovich." This was her first script to be adapted into a film, thanks to director Ning Hao who was also touched by the story.
Her script was then reworked by the director Wen and another script writer, who changed the leading role from a leukemia patient to a drug dealer, in order to make the film more dramatic. But this move angered the original inspiration for the story, Lu Yong.
"I never wanted to make money from my fellow patients," Lu said, "I thought this film would hurt my image. I don't want to say I'm a hero, but I'm just a patient who also helped others somehow. The role in the film is very different from myself."
But after corresponding with the film's creators, Lu Yong started to understand the creative changes that were made. He was satisfied with the final cut of the film after viewing it at an advanced screening held in Tsinghua University on Monday.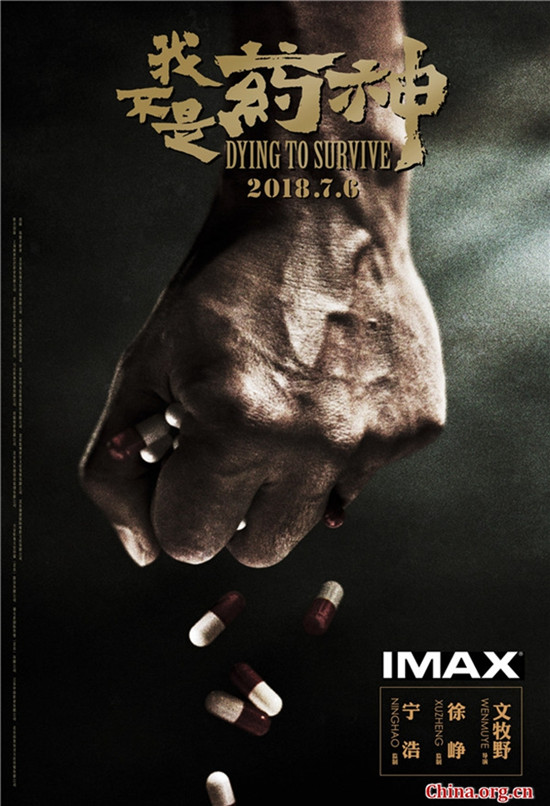 An IMAX poster for the film "Dying to Survive." [Photo/ China.org.cn]
"You can rest assured that the audience will understand and see it clearly," Xu Zheng, who stars as the main character in the film, told Lu at the ceremony after the screening, "The drug dealer part belongs to me, the hero part belongs to you." Lu was relieved after receiving a standing ovation and round of cheering. That night, the film's producers and creators also pledged a donation of 2 million yuan (over US$300,000) to China's leukemia patients.
A reflection of progress
Lu also said the film portrays what happens when people can't afford the high price of imported drugs. He agreed with the message at the end of the film that the situation is improving thanks to recent efforts by the government.