Editor's note: Wooden movable-type printing, one of the oldest printing technologies invented in ancient China, was inscribed on UNESCO's List of Intangible Cultural Heritage in Need of Urgent Safeguarding in 2010.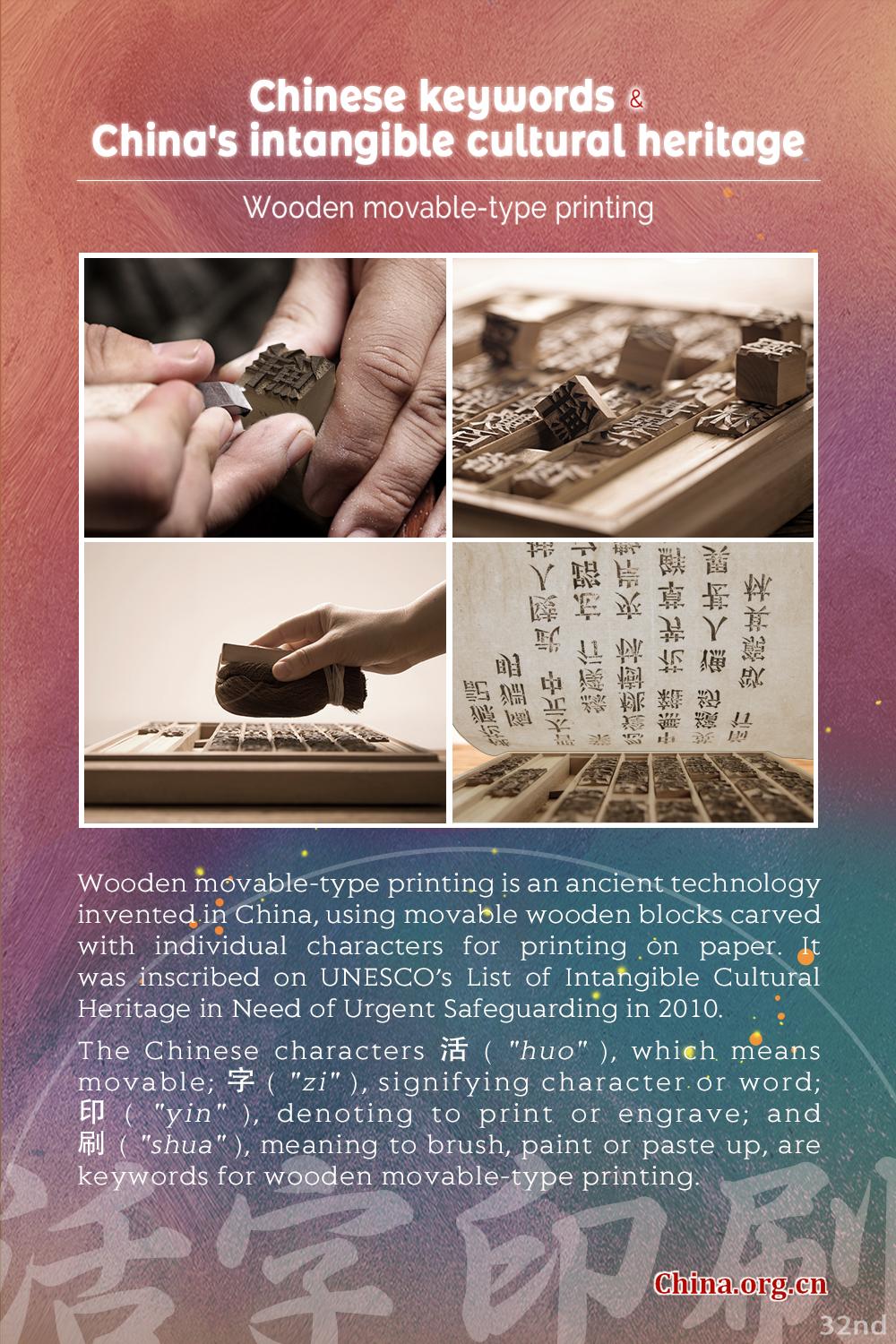 Wooden movable-type printing is an ancient technology invented in China, using movable wooden blocks carved with individual characters for printing on paper.
This type of printing emerged during the Northern Song dynasty (960-1127) and is said to have been invented by a man named Bi Sheng who lived from around 970-1051. However, Bi Sheng used the clay movable type later instead of wooden blocks due to the presence of wood grain and its unevenness after being coated in ink.
In 1298, an agriculturist by the name of Wang Zhen improved the techniques of the movable wooden type and created more than 30,000 wooden blocks. In less than a month, he and his craftsmen used these blocks to print 100 copies of "Records of Jingde County," a book more than 60,000 Chinese characters in length. Since then, wooden movable-type printing flourished and continued to be used up to and during the Qing dynasty (1636-1912).
With the later invention of movable types made from metals such as tin, copper, bronze, iron and lead, and today's continued development of various modern printing technologies, including inkjet, laser and 3D printing, the wooden type almost disappeared entirely. However, a small county-level city called Rui'an in China's eastern Zhejiang province carried on the ancient techniques.
To better protect the techniques and related traditions, UNESCO inscribed wooden movable-type printing of China on the List of Intangible Cultural Heritage in Need of Urgent Safeguarding in 2010, based primarily on practices in Rui'an.
The Chinese characters 活 ("huo"), which means movable; 字 ("zi"), signifying character or word; 印 ("yin"), denoting to print or engrave; and 刷 ("shua"), meaning to brush, paint or paste up, are keywords for wooden movable-type printing.
With the efforts of numerous generations, locals in Rui'an have maintained wooden movable-type printing mainly through the compiling of clan genealogies. Their printing history can be traced back more than 700 years to the Yuan dynasty (1271-1368), when their ancestors began to use wooden movable-type printing to record the development of families in the area.
As described by UNESCO, in Rui'an, "men are trained to draw and engrave Chinese characters, which are then set into a type-page and printed. This requires abundant historical knowledge and mastery of ancient Chinese grammar. Women then undertake the work of paper cutting and binding, until the printed genealogies are finished."
Craftspeople usually compile and print the clan genealogies by hand at ancestral halls in local communities, and will hold a ceremony to mark the completion of a genealogy. The techniques of wooden movable-type printing are passed down mostly by word of mouth, which requires intensive training and usually offers low incomes. As such, a rapid decrease in the number of dedicated craftspeople occurred.
In 2008, wooden movable-type printing was added to China's national intangible cultural heritage list and has since received greater protection. In recent years, cultural research centers on wooden movable-type printing have been established in Rui'an, along with local folk arts museums, inheritors' workshops and innovative cultural companies. Meanwhile, themed tours and homestay services are also attracting more visitors to learn about this ancient craft.
Discover more about China's intangible cultural heritage and their keywords:
• China's ICH entry to UNESCO in 2022: Traditional tea processing
• China's ICH entries to UNESCO in 2020: Wangchuan ceremony, Taijiquan
• China's ICH entry to UNESCO in 2018: Lum medicinal bathing of Sowa Rigpa
• China's ICH entry to UNESCO in 2016: Twenty-Four Solar Terms
• China's ICH entry to UNESCO in 2013: Abacus-based Zhusuan
• China's ICH entry to UNESCO in 2012: Training plan for Fujian puppetry performers
• China's ICH entries to UNESCO in 2011: Shadow puppetry, Yimakan storytelling
• China's ICH entries to UNESCO in 2010: Peking opera, acupuncture and moxibustion, wooden movable-type printing