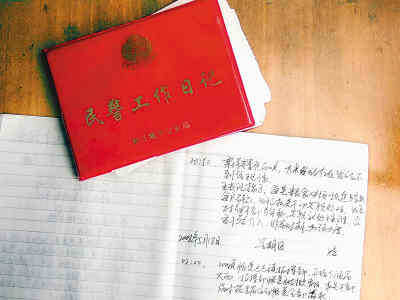 Hu Tao's work diary. [File photo]
 Editor's note
This is translation of a work diary by Hu Tao, the deputy secretary of the Party Committee in Longchi Township, Dujiangyan City, Sichuan Province.
Hu Tao's work diary
• Afternoon, May 12, 2008
• Evening, May 12, 2008
• May 13, 2008
• Morning, May 14, 2008
• Afternoon, May 14, 2008
• May 15, 2008
• May 16, 2008
• May 17, 2008
• May 18, 2008
• Postscript
At 2:28 PM on May 12, 2008, a 8.0 Richter Scale earthquake pounded Wenchuan County in southwest China's Sichuan Province, killing at least 69,000 people.
Longchi is only a mountain away from Yingxiu Township in Wenchuan County, the earthquake's epicenter. After the earthquake, the township was suddenly turned into an "isolated township in the mountains". Roads were blocked, power supplies were cut and communications were broken. Throughout the township consisting of five villages and a neighboring community, many houses collapsed.
But when large-scale relief troops and supplies arrived, people discovered that the earthquake relief work was being carried out in an orderly and efficient manner in this heavily hit town. Casualties were also rather low. Among the more than 2,800 local people affected by this disaster, only a little over 30 people died.
Hu Tao has a habit of keeping a diary. After the earthquake struck, he borrowed a Police Work Diary notebook from a local police station and began writing things down. The red notebook soon became filled with notes so he started using an exercise book. He hoped to keep a detailed record of each command unit and to document the arrangements made by the temporary rescue headquarters. He said that this was more than a personal kind of memory device: it would be useful for people to summarize their gains and losses in the future.
Due to time restraints sometimes only key words were actually written down in the little notebook. To help our readers we, based on the original record and Hu Tao's own explanations, have added our edits to clarify how a town Party committee and the local government organized people to help themselves.