[Afternoon, May 14, 2008] Temporary Party branch secretary soon appointed in Nanyue Village
At 12:30, the Party branch secretary and two other Party committee members in Nanyue Village were confirmed dead.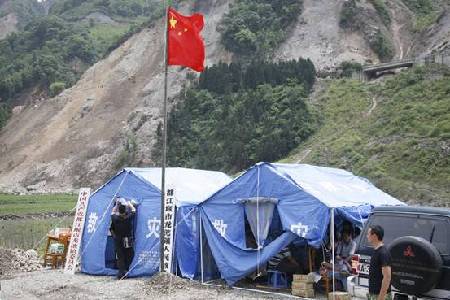 Temporary Party committee and government of Longchi Township. 
Hu Tao's work diary
•Afternoon, May 12, 2008
•Evening, May 12, 2008
•May 13, 2008
•Morning, May 14, 2008
•Afternoon, May 14, 2008
•May 15, 2008
•May 16, 2008
•May 17, 2008
•May 18, 2008
•Postscript
The Party committee made a decision that Tang Hai would be temporarily in charge of issues regarding Nanyue Village. This young guy behaved quite well during this time. Villagers trusted him and had faith that he could undertake such an important task.
All documents, files and cash in the financial office had to be well managed. They could not be messed up given this serious situation.
A rumor was spread among the local people that Longchi would sink. People were rather scared. We had to respond to their fear rationally and remove their worries.
Finally, we made contact with the outside world.
At 5:54 PM, some officials from the city authorities marched on foot to Longchi. The Hainan Public Security Frontier Medical Team also followed.