[2:33 PM, May 12, 2008] Emergency Headquarters established
Hu Tao's work diary
•Afternoon, May 12, 2008
•Evening, May 12, 2008
•May 13, 2008
•Morning, May 14, 2008
•Afternoon, May 14, 2008
•May 15, 2008
•May 16, 2008
•May 17, 2008
•May 18, 2008
•Postscript
At 2:28 PM, I was giving a report on my work in the Town Party Committee Secretary Wang Jin's room. Suddenly, the house began shaking and moving laterally. Dust fell down from the roof. Wang Jin responded quickly and shouted, "Earthquake! Everyone go outside!" 
The two-story building opposite the town government collapsed in front of us. I crouched and used my cell phone to dial 110. Wang Jin was also making a call. We couldn't get through: no signal. We stared at each other and realized how serious the situation was. 
The strong shocks finally stopped. Wang Jin stood up, and due to the graveness of this emergency, convened a temporary enlarged meeting of the Party committee. Among the participants were dozens of cadres from our local town authorities. 
At 2:33 PM, Emergency Headquarters was established with Wang Jin as Commander-in-chief. Our temporary office is an open space along the roadside of Liping Village.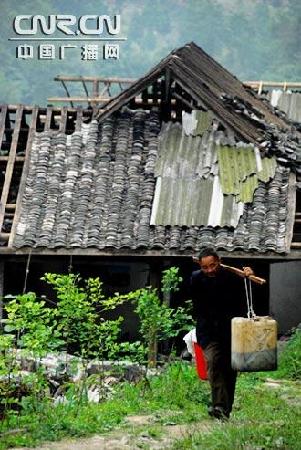 Villager collects food from his house.
[2:38 PM, May 12, 2008] The Emergency Headquarters issues two orders
At 2:38 PM, the Emergency Headquarters issued two orders: evacuate the masses and rescue kids; inspect the situation of this disaster. 
Deputy town chief Ning Zuochang led six cadres immediately for Nanyue Village on the mountainside, where Nanyue Elementary School is located. Wang Jin gave the order: rescuing students at any cost. 
The town chief Zhao Wugui immediately formed a commando unit composed of Party members and young people. They divided into six groups and rushed off to different villages to inspect the disaster situation and help the injured. 
Four people including Li Jun were required to leave for the Dujiangyan City and report on the situation. Sadly, the messages they brought back were quite depressing: landslides had blocked the roads and they couldn't get out.
 Deputy town chief Feng Cheng led female cadres to use megaphones to talk to the masses, eliminating panic and organizing them to evacuate to an open space outside the township. The crowds were advised neither to act individually nor to return home in attempts to rescue their property. 
[2:43 PM, May 12, 2008] Collect food, rice and medicine
Secretary Wang gave a series of orders that directed some people to be sent up the mountain to check on the power plant. If the earthquake had created problems for the power plant, the outcome could be quite terrible.
 Reports came in indicating that the nearby water flow was becoming slower and slower. Headquarters worried that the mountain had shifted, so they sent several teams out to inform people to evacuate along this route. 
No one had any idea how long contact would be lost with the outside world. Would relief supplies arrive soon? Another team was immediately sent to small shops and drug stores to collect food, rice and medicine. They were placed in a damaged bus in anticipation of the villagers' needs. 
Deputy town chief Tian Dehu also led a team to transport food, tent cloth and medicine to Nanyue Village in order to assist students and villagers in putting up temporary tents. 
Several cadres were ordered to protect important files and financial documents inside the township building.