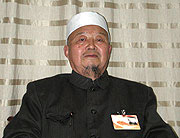 Li Mutang
Question: Where are you from?
Answer: Fuyang City, Anhui Province.
Question: What is your profession?
Answer: Imam of the Dongguan Mosque in Fuyang City, Anhui Province, and president of the Anhui Islam Association.
Question: What is the issue of most concern to people in your area of China?
Answer: People around me talk the most about city construction and economic development.
Question: What proposals have you made, or what did you hope to accomplish at this session?
Answer: I made altogether six proposals at this session. They involved a couple of suggestions that urge the government to reinforce the building of religious organizations, allocate more land for the construction of cemeteries for Moslems, provide assistance for retired imams, cultivate the new generation of cadres of ethnic minorities, build a new bridge across the Yangtze River in Ma'anshan and develop the economy in areas inhabited by minority ethnic groups.
Question: What have you seen achieved over the last five years?
Answer: Many things. For instances, the government has increased its investment in the educational and cultural sectors of ethnic groups, and many primary schools and middle schools for the Hui people have been set up. All ethnic groups have been enjoying unity and peaceful lives and we didn't see any serious disputes among different ethnic groups. In addition, the government has successfully developed the Hui-inhabited Yinghexi Road in Fuyang City and rebuilt a big mosque in Ma'anshan City in Anhui Province.
Question: When the Conference is not in session, how do you exercise your responsibilities as a CPPCC member?
Answer: I conduct investigations and have interviews to acquaint myself with the situations and opinions at the grass roots. I also attend various meetings to discuss and solve the problems I have encountered.
Question: What is your hope for the future?
Answer: I hope that the government will better follow out the policy of regional autonomy for ethnic minorities, promote the unity among different ethnic groups, provide more preferential policies for ethnic minorities and continue to improve their lives.
(By Chen Chao, china.org.cn staff reporter, March 16, 2002)