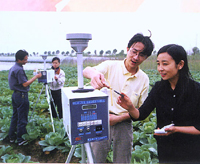 About 730 million farmers will benefit from tax cuts totaling more than 20 billion yuan (US$2.4 billion) this year as 26 of China's 31 provinces, municipalities and autonomous regions will terminate all agricultural taxes, according to Vice Minister of Agriculture Fan Xiaojian.
Fan, speaking at a working conference held Friday and Saturday in east China's Shandong Province, attributed the achievement to support policies issued by the Communist Party of China (CPC) Central Committee and the State Council at beginning of this year.
Only Hebei, Shandong, Yunnan and Gansu provinces and Guangxi Zhuang Autonomous Region will continue to charge agricultural taxes, although they will reduce the amount by two percentage points this year. These regions will reduce taxes by two percentage points in 2005.
China's goal is to abolish all farming taxes within five years.
(Xinhua News Agency February 28, 2005)