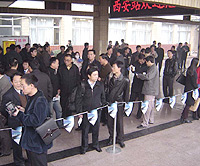 Niu Jie and his girlfriend Cheng Haixia came to Beijing from their hometown in the countryside of Xilingol League, Inner Mongolia, in February.
Niu's parents, both former farmers, were already in Beijing. The father has been working as a machinery maintenance worker in a factory in a satellite town of Beijing for five years. The mother was with him and doing occasional temporary work.
Now Niu and Cheng, both 22 and high-school graduates, work as attendants in the swimming pool of a hotel in the northern part of Beijing. Niu attends guests in men's locker room and Cheng looks after and polishes shoes for guests.
Their dream is to become real citizens of the capital city.
"I still don't feel comfortable living here," said Cheng. "The air is bad, the city is not as clean as I expected and people are not very nice."
"But we hope we can stay here. There is not much to do back home. The only thing we can do in Ximeng (Xilingol League) is farm work. But it's too hard."
The couple are typical of about 120 million Chinese former farmers who are now working and living in cities. A term has been coined for these people migrant workers.
In big cities like Beijing and Shanghai, they take up hard work on construction sites and the majority of low-level posts in hotels, restaurants and recreational institutions. They are shouldering a big part of the booming service sector.
In the manufacturing powerhouse provinces of Guangdong, Fujian and Zhejiang, migrant workers fill all the workshops. They make up a great pool of cheap labour for China's manufacturing industries.
In the poor western provinces and many central provinces, almost all the young people those from 15 to 40 years old are working in the cities.
"It is the trend. It seems that you have to leave because all your friends have left," said Niu.
What prompted the farm labourers' massive migration is a combination of different reasons a chronic wealth gap between rural and urban incomes, labour surpluses in the countryside, and the booming manufacturing and service sectors in the cities. Trade experts said China's opening of its agricultural market following its joining of the World Trade Organization will push more farmers' into cities.
A consensus is emerging that a considerable number of the farmers will eventually become city dwellers. But there is still no official blueprint on how the process experts call it urbanization should progress.
As a consequence of the country's economic reforms, the first "generation" of migrant workers started to leave the fields and swarmed into the cities from the 1980s.
Many young migrant workers in cities said their first goal of going to the cities was to see the world. Work was the second priority.
But when they got their first job, they found they could earn more than they did in the countryside. After some years, they begin to think that the old countryside life was intolerable.
Sun Yan, a waitress in a Korean barbecue restaurant in northeastern Beijing, said she was now facing the dilemma of staying in Beijing or going back home. Sun, who is from Fuyang in East China's Anhui Province, is now 27 years old and looking to get married. "But I just don't want to go back."
In fact, many young migrant workers go back home to get married and come back again to the cities to work.
But eventually the vast majority of them will go back to the countryside. If they get serious illnesses, it is almost sure that they will have to go back immediately to their hometown because they can not afford going to hospitals in bigger cities.
A few migrant workers who are capable of making a living in cities may end up being businessmen or self-employed skilled workers in smaller cities. But very few of them settle down in the big cities in the end.
The Sociology Institute of the Chinese Academy of Social Sciences (CASS) has just finished a three-year project on population movements in China.
Wang Chunguang, a research fellow who wrote the chapter about migrant workers, said it was very difficult to track down the whereabouts of the first-generation migrant workers.
"But I believe that only about 5 per cent of them settle down in cities, mostly middle-sized and small cities."
So the chances of Niu and Cheng to realize their dream of staying in Beijing would be very slim.
Different worlds
There are just so many problems for the migrant workers who want to live in cities.
Officially, people who move from the countryside and work in cities are still counted as farmers, a status that is opposite to city dwellers.
For the past 50 years, this difference was caused by a bipolar residence permit system, called the hukou, or registered household, system.
It is not just for statistical purposes. The two different types of hukou mean completely different lives. The city residents are covered by the social safety net, although not a very complete one; city dwellers' children can go to school at a relatively low price, among others. Some cities have begun to build low-income housing.
The migrant workers are excluded from all of these.
To make the situation worse, the incomes of the farmers are usually far less than those of city dwellers.
"It's so difficult for a farmer to earn a living now," said Niu.
He said that in his hometown, the average income of a family would be around 4,000 yuan (US$480) for a year.
"In my hometown, people work all year, every year just to make ends meet. Life is so hard," he said.
Now Niu earns about 1,000 yuan (US$120) every month, his girlfriend 800 yuan (US$96).
"Only a little would be left after we pay for our rented house it was a room actually and food, but we still want to stay."
"Maybe I can learn some skills and do some other things and make more money."
Niu and Cheng are relatively carefree compared to those who feel no particular excitement for the city life and work in cities simply to make more money. The latter group are generally older and many of them will not refuse dirty, hard, dangerous work that their city peers would shy away from.
He Anfeng, 36, is from a village in Chongqing in Southwest China. Both herself and her husband are now cleaning workers in a State-sponsored institution in Beijing. She earns 800 yuan (US$96) a month for that. She also moonlights, working as a part-time maid for two families, earning about 350 yuan (US$42) a month. Her husband's case is similar.
The couple spend 600 yuan (US$72) every month on food, mail 200 yuan (US$24) to their daughter who is living with the grandparents back at home and they spend 100 (US$12) on clothing and odds and ends. They can save 1,000 yuan (US$120) every month.
On average, she works 11 hours a day and has no holidays.
"It's nothing for me. I am not afraid of hard work. When I worked as a farmer, it was tougher."
Back at home, the whole family normally made about 2,500 yuan (US$300) in cash every year by selling their agricultural products grain, silkworm cocoons and oil seed. When the odds were against them, they earned less than that.
Government statistics indicated Chinese urbanites' per capital income stood at 8,500 yuan (US$1,020), while the figure registered as farmers was 2,622 yuan (US$320).
Rural residents' income has grown by an average of 4 per cent during the past 10 years. That is a respectable figure by international standards. But the rate pales when compared with urban residents' income growth of an average 8 per cent every year during the past 10 years.
The government has been trying to raise farmers' incomes by helping maintain agricultural products' price at a higher level and by eliminating unnecessary taxes and administrative fees on farmers.
But they can not solve this problem: the country simply does not have enough land for the farmers to use. The average acreage of land for Chinese farmers is a minimal one eight hundredth of their peers in the United States.
China has about 800 million farmers and 500 million of them are in their working years. Renowned agricultural economics scholar Wen Tiejun estimates that only 150 million are needed for agricultural work, which means 350 million are surplus labourers.
Currently, 120 million are working in the cities, about 70 million are working in smaller enterprises in the countryside and in small towns.
So there are still more than 150 million Chinese farmers "unemployed."
Despite China's family planning policy, the country's population is still growing and rural population is growing faster than the urban population. But with the expansion of the cities, arable land is doomed to further shrinkage and less capacity to employ labourers.
What to do?
The only solution to the problem is to allow some of the farmers to move into the cities, said Yukon Huang, nearing the end of his seven-year stint as the World Bank's director for operations in China.
Everybody who talks about issues related to migrant workers attacks the hukou system because it prevents farmers from moving into cities and enjoying the rights and social welfare benefits for the urban hukou holders.
The system, set up in the 1950s, was a historical choice when China decided to focus on industrialization to enable the country to survive in the Cold War era.
But with the country's gradual development, the system has been deemed by an increasing number of people to be outdated and unfair to the farmers.
But many experts said the system could not be scrapped at one shot.
If the system was demolished now, a huge wave of farmers would rush to cities, which do not have the capacity to absorb them. That will create myriad problems. The worst possible result of badly managed urbanization would be the emergence of slums.
The World Bank's Huang said the government should start to work out a long-term and concerted approach for the process of urbanization.
He said that to make feasible a meaningful process of urbanization, one of the first things the government has to address is low-income housing. The government has to try to find financial resources to develop areas for low-income housing. In big cities, these houses may need to be built 10 or 15 kilometres away from the city where the land is still relatively cheap.
Or the imposition of a commercial or transfer tax on luxury and commercial buildings, or luxury housing to develop housing for the low-income, he said.
"If you start doing that, you then have to think about longer-distance commuting system to make peripheral, or secondary towns better. It needs better co-ordination between transport systems.
"This needs planning and co-ordinating that does not exist in China right now," Huang said.
While Huang focused on the relatively bigger cities embracing the migrant workers, CASS's Wang said more efforts should be made in the smaller cities.
"After all, the living expenses are very high for migrant workers and it is more realistic for them to live in smaller and middle-sized cities."
Chen Yingfang, a sociologist with the East China Normal University in Shanghai, said the farmer-workers in the cities should eventually be given the same social welfare benefits.
Cities and enterprises might be unwilling to offer this to the migrant workers, because that will dampen their competitiveness, Chen said. But this consideration would be eventually dwarfed by the calls for equity, she said.
In the past few years, there have been growing efforts from the government and other sectors of the society to help migrant workers to be paid wages in default and get reasonable compensation for workers hurt on the job.
Since this spring, factory managers in Fujian and Zhejiang have been complaining that they can not get enough hands for work. Signs for "Waiters Wanted" can be seen on many restaurants' windows in Beijing.
Jiao Bifang, an economist with the Fudan University, said the shortage of farmer workers in the southern parts of China might indicate some of the migrant workers are beginning to feel fed up with sluggish salary growth, poor working environment and the lack of necessary benefits.
So the provision of more benefits may also have economic reasons.
East China Normal University's Chen said governments at different levels should also consider providing training and other support for the migrant workers to help them have better careers.
Almost all the young migrant workers plan to learn new skills to be able to do better work. But very few of them meet their plan because most of them work very hard and simply do not have time to learn new skills.
Sun, a waitress at a Korean barbecue, was among those who had the guts to quit the job for training.
Three years ago, she enrolled in a course of computer operations for a semester, hoping to get an office job after that. But she did not.
In retrospect, she said she had just taken the course blindly without knowing what chances the training would provide.
"If somebody told me what kind of training would provide better chances that would be great."
After three months of job hunting, Sun returned to her job as a waitress.
After so many hardships Sun, like all the migrant workers interviewed by China Daily, said she does not feel life is unfair even though she often feels discrimination.
"I don't think about this. It's life. We have to work for a better result," she said.
(China Daily July 30, 2004)