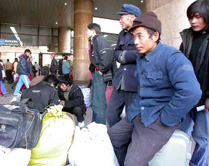 Xiaochang Construction Company from central China's Hubei Province has been dismissed from the construction market in Beijing and banned to bid for any projects in the Chinese capital since early this week.
The move was taken against the company because it delayed payments for migrant laborers it hired on temporary basis, according to the Beijing municipal construction committee Thursday.
On Nov. 27, eleven migrant laborers from southwest China's Sichuan Province came to the company to ask for the defaulted payment of some 20,000 yuan they deserved from their toil. Denying to pay the money, a company official sent others to beat up the laborers, and five of them were severely injured.
The committee said they are also checking another dozen companies with similar problems and will do the same to those doing wrong. It also promised to help migrant laborers to get 100 percent of their payment back before the traditional Chinese Spring Festival which falls on Jan. 22 next year.
Not only Beijing, but governments at all levels around China are now listing the job their must-be-done priority before the year end.
East China's Anhui Province, north China's Shaanxi Province, and many other provinces and autonomous regions elsewhere in the country, have all launched overall checks since Dec. 1 in this respect. Labor and social security departments, construction units, trade unions, women's federations and youth leagues all joined in the efforts.
Over centuries, the Spring Festival is the traditional time for family reunion in China. Migrant laborers usually return home after one year of hard, strenuous work farm away from their hometown.
Defaulting of payments have long been a problem staggering the income rise of rural population and a "chronic illness" affecting and undermining social stability.
According to statistics from the All-China Federation of Trade Unions, China has approximately 94 million migrant rural laborers, whose employers are in arrears up to about 100 billion yuan (US$12.1 billion). Over 70 percent of the payment default comes from construction enterprises, followed by the catering industry.
The issue has aroused wide concern from Chinese leaders and ranking officials, governments departments at various levels and the entire society.
Premier Wen Jiabao pledged in October to help migrant workers retrieve their defaulted payment during his inspection tour of the rural areas of southwest China's Chongqing Municipality.
In southwestern Guizhou Province, the provincial labor and social security department recently called in officials of nearly 30 construction companies for a meeting to tackle the problem.
In the meantime, the local government released a notice, asking construction firms to put one percent of total contract capital of the project they bid for in bank as security money. After the completion of the project and settling payment for the laborers, they could get the money back. Otherwise, the money will be used for the salary payment for migrant laborers.
Meanwhile, lawyers urge migrant workers to increase their awareness of labor rights. A survey launched in east China's Shandong Province showed that more than 60 percent of migrant laborers didn't sign contracts of any form with their hirers, who encouraged offenders to delay and also made it hard to obtain any evidence for the investigation.
Things are getting better. In November, 92 migrant laborers in Liuzhou City of southwest China's Guangxi Zhuang Autonomous Region won the case against the Liucheng Paper Mill, retrieving their payments of 57,000 yuan (US$ 6,600) which had been defaulted for three months.
"It shows that they have better awareness of labor rights," said Qing Lijun, a lawyer with the Zhihe Law firm in Liuzhou City. Qing called on related departments to provide more legal and on-the-job training for migrant workers.
(Xinhua News Agency December 4, 2003)