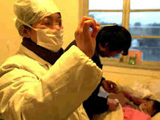 Most of the HIV/AIDS victims in central China's Henan Province have been receiving free medical treatment in the past years thanks to the central and local governments' enhanced efforts in fighting the deadly virus.
According to a news release from the central government's Information Office, 4,352 out of the 5,499 confirmed AIDS cases in Henan are being treated with free anti-virus medicines and there is an evident improvement in their condition.
The death rate of AIDS sufferers in Shangcai County, one of the province's severely hit areas, dropped markedly last year compared with the previous year, according to statistics from the county.
And 76 officials from various provincial departments, deputed in mid-February to 38 villages severely affected by HIV/AIDS, are settling into their jobs.
The key task of the officials is to ensure that all construction projects funded by the provincial budget are completed by the end of May.
The projects include an asphalt road to the outside, a drinking water facility, a school, a standardized clinic and an orphanage for each village.
The province has allocated 64.85 million yuan (US$7.8 million) for the projects.
Upon completion, the projects will meet villagers' living, transportation and hygiene demands as well as offer free schooling for orphans of AIDS victims; and improve the overall living environment and quality of life.
The posting of the 76 officials is another important measure taken by the province to prevent and control HIV/AIDS since it began to send medical teams and working groups to affected villages in 2001, when there was an increase in the number of infected people.
So far, 11,844 people in the province have tested HIV positive, with 5,499 having full-blown AIDS. Most of the infected live in the 38 villages in Shangcai County.
The large-scale outbreak of HIV/AIDS cases in Henan was caused by some farmers from Shangcai County and other poor areas in the province being infected before 1995 while selling blood illegally.
The province has since adopted many measures to prevent the spread of HIV/AIDS.
Illegal blood stations were closed; possible channels for cross infection blocked; and effective steps taken to stop pre-natal infection.
Since 2001, the province began to set up networks in severely affected villages to provide medical aid and social care.
Besides sending medical teams and building clinics, the province has spent more than 13 million yuan (US$1.6 million) to construct orphanages - 729 orphans of AIDS victims have received help such as free schooling, free grain and financial aid.
Total expenditure for the services reached 28 million yuan (US$3.4 million) in 2001 and 2002. Last year, the province set aside 31.7 million yuan (US$3.8 million) to help victims and improve prevention.
In severely affected areas, the government provides free HIV tests, medicines and pre-natal treatment of infected pregnant women. It also ensures HIV/AIDS victims and their families have proper housing, clothing, food, basic medical facilities and education.
It is required that no school-age child should drop out.
Meanwhile, the province has delegated more rights to city-level epidemic prevention stations in terms of testing and confirming HIV/AIDS cases. The initial-sieving centers of those stations have been upgraded to HIV/AIDS confirmation labs to ensure efficiency.
A report system, which requires reporting of epidemic situation every 10 days to the upper level has been established. This has helped improve the accuracy of epidemic monitoring.
(China Daily March 3, 2004)