Reigning champions the Guangdong Tigers used a three-point barrage in the fourth quarter of Sunday's game to successfully defend their China Basketball Association title, beating challengers the Jiangsu Dragons 107-99 in the fifth and final game of the championship series.
Forward Zhu Fangyu, who scored 15 points in the final quarter, led the Tigers in clawing their way back from a 65-81 deficit with just over nine minutes left into a 94-87 lead after the home team offense went cold for an excruciating seven-minute period.
Zhu ended the game with 28 points, while American teammate Jason Dixon contributed another 20. Dixon controlled the boards for most of the game while holding Jiangsu center and CBA regular-season scoring champion Tang Zhengdong to 11 points.
"It was a great game, tonight we left everything we had out on the court," Dixon said. "Our backs have been against the wall the whole series, but every time someone has stepped up and produced for us. Tonight it was Zhu Fangyu."
During Guangdong's crucial run, Zhu knocked down three three-pointers, while guard Li Qun had one and Dixon had another.
Jiangsu was led by American Ryan Kelly, who scored 24 points, 20 of them in the first half.
The game kept the capacity home court crowd on the edges of their seats for the first three quarters, with Kelly leading his team to a 27-23 lead after one period and a 48-44 halftime lead. Jiangsu went into the final quarter leading at 77-65.
The game was the first time in the CBA's 10-year history that the title series has gone to fifth and final game.
In another first for the CBA, it was also the first time the series was broadcast live in the United States, via NBA TV.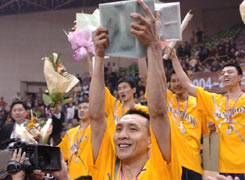 (China Daily April 25, 2005)