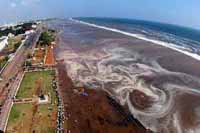 Piling up or burying the dead along the tropical coasts of southern Asia, rescuers counted the death toll to 24,000 yesterday while China joined other nations in efforts to help nations hit by the quake and tsunami on Sunday.
Millions were left homeless a day after the biggest quake in four decades sent tidal waves crashing into nine countries and as far as Africa.
With thousands still missing, the tally may rise, officials said.
Among the missing are tourists from China.
Besides the death of a tourist from China's Taiwan, dozens of Chinese were confirmed injured yesterday.
In worst-hit Sri Lanka, the death toll reached 12,029, according to military officials and websites reporting from Tamil areas outside the government's control.
Indonesia and India also reported thousands dead each, and Thailand said hundreds were dead there. Deaths also were reported in Malaysia, Maldives, Myanmar, Bangladesh and even in Somalia, 4,800 kilometers away in Africa.
Sri Lanka and Indonesia had at least a million people each driven from their homes.
As of yesterday evening, 19 people from Hong Kong and six from the mainland had been admitted to hospitals in the tsunami-hit regions.
Though two tourists from Zhejiang Province missing the day before were found alive yesterday, a number of other Chinese nationals remain missing in Thailand.
Moreover, some Chinese tourists straggled in two resort islands in Maldives, said Cao Xiaojian, an official with the local embassy. "There is no danger but there may be some difficulties with food and accommodation," he said by telephone.
Hong Kong Secretary for Security, Ambrose Lee, citing Hong Kong Travel Industry Council information, said more than 1,000 Hong Kong people in 30 to 40 groups were in Phuket when the tsunami hit.
Lee admitted a number of Hong Kong people were still missing.
In Maldives, eight tourists were held back in the White Sand Beach Resort while the two other travel groups from Shanghai and Hong Kong, made up of 21 and 14 people, were on Paradise Island.
They are expected to fly back as soon as the airport resumes operating.
There were no reports of injured Chinese citizens in Indonesia, where the earthquake took place, said He Shiqing, an official with the local embassy.
When the disaster hit, Executive Councillor Leung Chun-ying was on vacation in the Pacific resort of the Maldives, while Hong Kong Exchanges and Clearing Chairman Charles Lee and Democratic Party chairman Lee Wing-tat were in Phuket. All are safe.
Chinese kung fu film star Jet Li, who was in the Maldives on holiday, called his Hong Kong agent to report he and his family are safe.
Helping hands
As people are searching for more victims of the disaster, aid agencies around the world were rushing staff, equipment and money to southern Asia.
The Chinese Government said it is ready to help its citizens as well as provide assistance to disaster stricken countries.
The State Seismological Bureau is working with the United Nations Office for Co-ordination of Humanitarian Affairs.
Guo Xun, an earthquake expert, flew to Sri Lanka yesterday to join a six-people United Nations evaluation team to investigate and develop a relief plan.
"I will stay there for about 10 days and try to co-ordinate the rescue efforts from various countries in the fields of personnel and material aid," Guo told China Central Television Station at the airport.
A team of more than 40 experts was ready to head to Indonesia for relief and rescue work, Xinhua said.
"The task force is on all-weather condition, and will set off at the invitation of the Indonesian government," it quoted Huang Jianfa, an official with the bureau, as saying.
The Foreign Ministry set up a hotline yesterday, 86-10-65963511, to help the public track down relatives and friends in South and Southeast Asia. The hotline set up by Hong Kong authorities is (852) 2829 3010.
Relief organizations in Hong Kong were also rallying efforts to dispatch emergency aid to the disaster-hit region while appealing for urgent donations.
Four HK immigration officers arrived in Thailand's Phuket to help residents return. Airlines also got ready to schedule additional flights to airlift stranded citizens home.
TIC Executive Director, Joseph Tung, said the council had contacted all travel agencies with groups in Phuket and was told their members were safe. He said the agencies were arranging for their return to Hong Kong.
Meanwhile, relief organizations in the SAR yesterday rushed to the aid of the victims in the disaster-struck countries.
Oxfam Hong Kong said it had made an initial grant of HK$200,000 for emergency relief and rehabilitation work in Sri Lanka.
Relief workers from other Oxfam groups were already in Sri Lanka participating in the rescue.
Zhang Xiaodong, an earthquake expert said the earthquake, measuring 8.7 on the Richter Scale, was the largest ever in the area. The resulting tsunami did not affect China.
Southwest China's Yunnan Province was rattled by 47 tremors on Sunday and experts estimated that they were somehow related to the deadly earthquake.
(China Daily December 28, 2004)