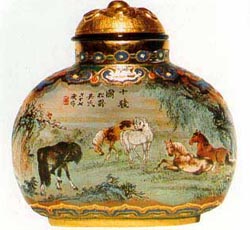 Experts have warned that China is losing most of its folk art, forcing enthusiasts and government officials to take effective measures to rescue the valuable cultural heritage.
Folk cultural heritage embraces three major categories - folk customs, folk literature and folk arts. These are seen as important carriers of the national spirit and emotions of China, according to Feng Jicai, a well-known writer and folklore scholar in Tianjin, North China.
"Every minute folk heritage is fading away from our fields, mountains and corners of most remote inhabited areas," said Feng, who is also chairman of the China Folk Arts Association.
Statistics show that in Beijing the wealth of around 300 types of folk arts and crafts in the mid-1960s had dropped drastically to just 30 at the end of the 20th century.
South China's Guangdong Province used to have around 1,200 folk art genres, but now only 600 or so remain, according to the local folk artists' association.
"Many ancient art forms are on the verge of extinction, as the older generation of artists have passed away and few young people are qualified to take over," said Feng.
"If no action is taken to rescue folk cultural heritage, nearly half of it will disappear totally in the next two decades," he warned.
In Sichuan, Shaanxi and Zhejiang provinces many folk arts have only one generation of successors and one foremost exponent each, the majority of whom are elderly, with some of the folk arts already being lost.
Wang Wenkun, a famous shadow play entertainer in Shuiguan Town, Langzhong of Southwest China's Sichuan Province, passed away several years ago and his consummate skills died with him.
Wang once participated in an art festival in Vienna, Austria, and his performance ignited quite a stir there where the local media praised China's shadow play as the "father of the film," according to Li Shiqiang, a cultural heritage official in Shuiguan Town.
However, "none of Wang's children were willing to learn the skill and they would rather take jobs as migrant workers to make ends meet," Li said.
"It is more and more difficult for the folk arts to be lucrative, as cultural consumption has diversified in China," Li said.
Given similar factors, many folk arts are on the verge of extinction in northwestern China's Shaanxi and eastern China's Zhejiang provinces.
Cang Shulan, a paper-cut art expert in Xunyi County, Shaanxi Province, has given several lectures abroad, but the 90-year-old craftswoman has no successor for her unique skill of paper cutting accompanied with singing.
The phasing-out of folk arts is ascribed to limited channels to pass on skills and reluctance among the young people to take over. Worse, there is a drain in the nation's reserves of ancient folk artists' works, according to Wang Miao, a local cultural heritage official in Zhejiang.
Wang said many foreign institutions and individuals were going from village to village in China to collect works and smuggle them abroad.
(China Daily July 28, 2003)